Bantamweight, Kai Asakura (13-1)
The story heading into Rizin 18 was the rise and progress of former UFC title challenger Kyoji Horiguchi. It took 1:08 for Asakura to shock the world knocking out Horiguchi in the very first round. Asakura landed a right hand at the start of the fight wobbling Kyoji. Kai stepped on the peddle looking for the kill but picking his shots and staying very calm. Landing two big knees to the body it was that right hand finding home again putting Kyoji out.
Grade: A+
Kai Asakura (13-1) shocks the world, lamping the two-division, two-promotion terror himself, Kyoji Horiguchi, in no time flat! A star is born as the former Outsider champ is now 5-0 in RIZIN. He has ended 10, eight apiece in round one or by knockout. #RIZIN18 #RIZINFF #RIZIN2019 pic.twitter.com/cPOjr62vY8

— Kyle Johnson (@VonPreux) August 18, 2019
Strawweight, Mallory Martin (5-2)
Martin fought on the contender series and although she put on a good performance, she didn't get the UFC contract. Martin beat a tough Italian fighter in Micol di Segni taking the comfortable decision. In that fight Martin proved her pressure, takedowns, top control, and ground and pound were a big factor. Martin not getting the contract isn't the worst thing in the world, just because getting some more experience first should benefit her.
Grade: C+
Mallory Martin wins by UD! #DWCS pic.twitter.com/Bu9QIUfKcj

— ShayMyName (@ImShannonTho) August 21, 2019
Middleweight, Caio Borralho (6-1)
Borralho is an underrated prospect, and put on an underrated performance on the Future FC 8 card. Borralho showed a well-rounded game with two takedowns and had his explosiveness and athleticism on display. He's more of a striker and in this fight he was able to find the guillotine in a scramble.
Grade: C+
Heavyweight, Hugo Cunha (5-0)
Also at Future FC 8, Brazilian national team wrestler Cunha would continue his 100% finish rate in August. He used his wresting early and would secure many takedowns. Cunha would use single legs to get his opponent, Silva down and would also utilize his pressure against the cage. Cunha would put on a relentless attack, getting many brief takedowns. Cunha would eventually take the back in a scramble and get a very nice RNC finish in round one.
Grade: B-
Earlier tonight, former Brazilian national team wrestler Hugo Cunha (5-0) successfully debuted in Future FC. Strangling Henrique "Montanha" Silva in the opening frame, the "Silverback" has stopped each of his bouts and four in round one. He's a young HW worth watching. #FutureFC8 pic.twitter.com/eHoKHf6VPz

— Kyle Johnson (@VonPreux) August 24, 2019
Heavyweight, Renan Ferreira (6-2)
Ferreira, a 6'2″ behemoth, really looked solid against an established prospect in Jared Vanderaa. He beat the lead leg up of Vanderaa the entire first round and did a great job staying aggressive. Round two, his range came into play landing a long right hand on the jaw, dropping Vandreaa. The Brazilian looked to close out the fight on top with a massive barrage of punches and elbows splitting the head open on Vanderaa. Vanderaa, with loads of toughness. survived and worked back to his feet and got the takedown. Just as it seemed that Ferreira would gas out he instantly locked in a triangle off his back and the American tapped.
Grade: A-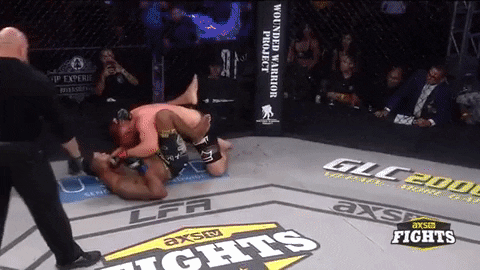 Bantamweight, Danny Sabatello (6-0)
Sabatello was all business coming into this fight refusing to shake hands and touch gloves with his opponent. It was very easy work for Sabatello getting this fight over within round one without taking a punch. He was very aggressive and started with a flying knee and exchanging on the mat. He constantly was looking for the stoppage landing consistent ground and pound. His opponent was a fighter with a record of 2-3 which takes away from the performance a bit.
Grade: C+
Danny Sabatello by TKO #TitanFC56 pic.twitter.com/uuFRQgKTZ8

— ShayMyName (@ImShannonTho) August 24, 2019
Featherweight, Jason Soares (14-0)
Coming off a comeback of the year performance last time out, this time it was a dominant performance from Soares himself. Against a credible veteran in Andrew Whitney, Soares made it look easy. Soares in round one would show glimpses of his stand up with a few brief combinations. Round two, he secured takedowns. Soares stayed on top and stayed methodical. Later in round two Soares took Whitney down with a leg kick. From there he took the back and would go to work with ground and pound. Eventually, he would transition from the back into the armbar for the finish, pulling off one of my favorite transitions to a submission. This was his third Titan FC title defense.
Grade: A
Of significant note tonight, Jason Soares (14-0) notched his third defense of the Titan FC featherweight strap. Hobbling Andrew Whitney en route to a second-round armbar, the champ has stopped all four of his promotional foes and 12 overall. Someone sign him, please! #TitanFC56 pic.twitter.com/2d2euAPwoh

— Kyle Johnson (@VonPreux) August 24, 2019
Lightweight, Aviv Gozali (3-0)
Not much to talk about in this fight because it ended so quick. Gozali at the bell ran across the mat dropped levels for the imanari roll and sunk in a heel hook for the tap. The submission happened in only eleven seconds which is now the fastest submission in Bellator history. The son of Haim Gozali is now 3-0 inside the Bellator cage.
Grade: A
11 seconds was all it took for Aviv Gozali!

Aviv locks in the fastest sub in Bellator history with this beautiful heel hook! #Bellator225 pic.twitter.com/fRDJoXIrjo

— Bellator MMA (@BellatorMMA) August 24, 2019
Middleweight, Austin Vanderford (8-0)
Now making it 2-0 in Bellator MMA, Vanderford would take out his second undefeated fighter in Joseph Creer (6-0). This Bellator 225 fight was his middleweight debut moving up from welterweight, and he looked great. Vanderford did not show much of his striking, as he found it to easy to stay on top and control the round. He wasn't much of a gentleman on top, and constantly landed ground and pound. He didn't really even need dominant position to land as he was able to land short punches and elbows. The elbows would create two cuts over and under the right eye of Creer painting the canvas with blood. At the end of the second the ref called the fight due to a doctor stoppage.
Grade: A