Featherweight, Punnya Sai (4-0)
A young kid at only 20-years old out of Indonesia put in a good performance for the ONE Warrior Series. Not a great opponent in Raghvendra Singh but he has been the best fighter he's fought so far with a 3-1 record. Sai got the fight to the mat quickly and would transition right into mount. He would land a barrage of punches and elbows before taking the back and finishing with the RNC. A good performance but needs to fight better competition.
Grade: C-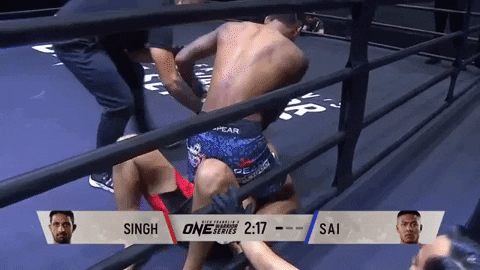 Flyweight, Lito Adiwang (9-2)
Anthony Do is a prospect to keep an eye on, but Lito Adiwang had a pretty good showing against him. Adiwang arguably took each round showing some skill on the feet and on the mat. In round one, Adiwang had the most significant moment of the fight landing a right hook in a blitz dropping Do. Do pulled guard several times and Adiwang had to fight through many submission attempts. He displayed good submission defense and held top position with active ground and pound. Adiwang was flat-footed at times but made up for it with his explosions.
Grade: C
Bantamweight, Umar Nurmagomedov (11-0)
Nurmagomedov is a really good prospect and he showed that on a big stage for PFL. Of late, Nurmagomedov has been beating solid fighters, dominating all foes. In his latest win over Brazilian Sidemar Honorio, he comfortably won all three rounds. Umar had moments of good top control but it was the work on the feet that was impressive. The Russian showed fluidity in his kicks, his timing was on point, was landing solid, and the distance management was perfect.
Grade: B+
Umar Nurmagomedov (11-0) continues to show why he's a top bantamweight prospect, befuddling Sidemar Honorio with a bevy of crafty kicks en route to a dominant decision win. Khabib's younger cousin is one to watch. #PFL6 pic.twitter.com/pGxRS6cEjQ

— Kyle Johnson (@VonPreux) August 9, 2019
Heavyweight, Denis Goltsov (24-5)
A sensational performance, maybe the best of the entire month. Goltsov put on a clinic on the feet finding his jab actively and frequently. The jab at range was perfect, and Goltsov followed by coming down the middle with straight punches that were hitting home. He was snapping back the head of Tiller and once Tiller closed the distance he ate a few knees. With the jab, straights, knees and smashing ground and pound the fight could have easily been stopped in round one. Round two, Tiller got two takedowns but instantly both times Goltsov hit a beautiful sweep. His continued ground and pound would later lead to an Ezekiel Choke.
Grade: A+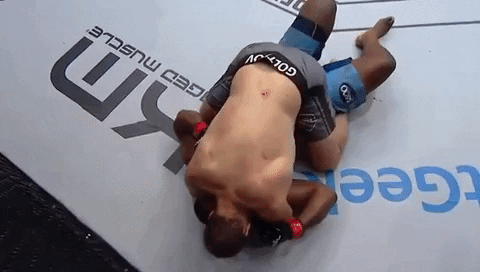 Flyweight, Victoria Leonardo (6-1)
Leonardo was in a fight of the year contender against fellow top prospect Stephanie Geltmacher. This fight has a bit of everything where both women showed incredible toughness. Leonardo looked well-rounded and just overall did a little more in a close decision win. Do yourself a favor and watch this fight if you haven't.
Lightweight, Thanh Le (10-2)
Being 33-years old, Le isn't much of a prospect but he doesn't have a lot of fight mileage. He would sit in the pocket and snipe his way in and right back out looking for the kill. Le would end the fight pretty quickly with a left kick followed by a right-hand putting Boku down. That moved Le to 2-0 for ONE Championship.
Grade: B-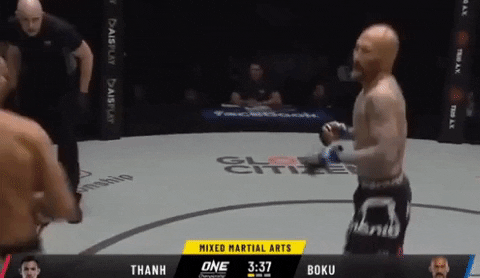 Strawweight, Nong Stamp (2-0)
"Stamp Fairtex" moved to 2-0 for ONE Championship beating a good name in Asha Roka. Stamp is a world kickboxing and muay thai champion and she displayed that in this fight. It would be nice to see her throw more combinations rather than throwing single strikes. She kicks hard and was buckling the knee of Roka a few times. The odd time the fight hit the mat, Stamp showed her muay thai with solid ground knees. The native out of Thailand secured two takedowns and finished surprisingly with a submission (RNC).
Grade: C
Seeking MMA gold to go with her Muay Thai and kickboxing belts, Stamp Fairtex (2-0) returns to the sport with a shutdown of India's Asha Roka! Striking savagery segued into takedowns and some shockingly skilled grappling, a third-round RNC sealing the deal. Wow! #DreamsOfGold pic.twitter.com/fmX6bOYOaX

— Kyle Johnson (@VonPreux) August 16, 2019
Featherweight, Mohammad Alavi (5-0)
Winning the XFC title out of Australia against a good opponent in Jackson Small has put Alavi on our watch list. Alavi continued his 100% finish rate getting right at it against Small. Alavi opened up the fight with a flying knee and a right hand, folding Small. Somehow Small survived but it wasn't long after that Alavi closed the fight. Alavi landed a right head kick and a right hand stunning Small. A barrage of strikes would send the ref in.
Bantamweight, Manel Kape (14-4)
Showboating aside, Manel Kape put on not only a good show entertainment-wise, but a good performance. He did beat a well-known name in Takeya Mizugaki but it's known he's way past his prime. Kape did what was expected and finish Mizugaki. "Prodígio" uses a lot useful feints to find his shots. Speed was a big factor; he landed big punches in the pocket before Mizugaki could escape. It was a beautiful right to the jaw that would basically put the lights out for Mizugaki in the second round.
Grade: C+
RIZIN's flamboyant, bling-toting firebrand dusts a legend, as Manel Kape (14-4) detonates Takeya Mizugaki with a second-round right! The promising Angolan has stopped 13, eight by knockout. #RIZIN18 #RIZINFF #RIZIN2019 pic.twitter.com/OA3aFN9ouH

— Kyle Johnson (@VonPreux) August 18, 2019
Bantamweight, Victor Henry (19-4)
This was a very competitive fight with a willing opponent in Trent Girdham. A lot of props to Girdham, because he was getting the better of Henry for a good portion of the fight. Both men landed excellent shots stunning each other a few times. Henry was tagged a few times and taken down, but he fought tough and came out looking strong. When the fight hit the mat Henry was just more polished in his grappling. Henry locked in a nice reverse triangle and Girdham tapped.
Grade: C+
Josh Barnett's globetrotting, ass-kicking protégé puts on a show in his RIZIN debut, as Victor Henry (19-4) taps Trent Girdham with an amazing reverse triangle choke! The DEEP champ boosts his tear to seven and sets himself up for a shot at Horiguchi. #RIZIN18 #RIZINFF #RIZIN2019 pic.twitter.com/vT6RIYcPgN

— Kyle Johnson (@VonPreux) August 18, 2019