Get to know undefeated pro featherweight AJ Cunningham (4-0), cousin of UFC athlete Bryce Mitchell, ahead of his main event fight for Pyramid Fights 14 on November 16.
AJ Cunningham is looking to get his revenge against a dangerous fighter in Solo Hatley Jr. after losing to him as an amateur. The pair meet for the second time at Pyramid Fights 14 this weekend, where Cunningham will enter undefeated as a pro. We caught up with the talented featherweight ahead of the fight.
First of all, how did you get into MMA?
It was when I saw a UFC event. It was when Anthony Pettis got beat by Rafael Dos Anjos. I thought after that fight 'this is what I want to do with my life.' I wanted to be a badass after UFC 185, that's all I wanted to do.
Do you have any background in any other sports? If so, explain?
I played football for six years. I was a tailback, a small one at that at around 149 pounds tops. So I used to have to find ways to win battles.
What is your career, or would MMA be your full-time job?
I would love for MMA to be my full-time job. As of right now, I work at Bad  Boy Mowers. I also work at Fiddler's Green (marijuana dispensary). The goal is hopefully in the next year and a half to be training full time.
Who are you currently training with and who are some of your main sparring partners?
I train out of Without Limits in Batesville, Arkansas. My striking coach is Matt Sellers and my jiu-jitsu coach is Josh Hudson. Some of my main training partners are at another gym, they are Bryce Mitchell and Jeremiah Cullum. My cousin Bryce is already in the UFC. Also Justin Frazier a former contender on the Ultimate Fighter also trains here at WL.
List of accomplishments such as titles, belt ranks, etc…?
I rank 44th out of 285 in the US southeast in the featherweight division right now. I also rank 244th out of 1299 in the United States. I've finished 3 of my 4 opponents in the first round. All 4 have been finished, 3 subs and 1 TKO.
What are your favorite striking and grappling techniques?
Elbows and spinning shit is what I love to do when I stand! As far as grappling goes I love it all. High guard with elbows isn't something I've got to show in a fight yet but would love to. I like to wrestle off the cage but I do love me some submissions.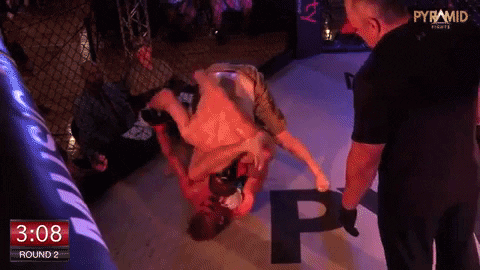 You're set to fight Solo Hatley Jr coming up. What do you think about him as an opponent and how do you see this fight playing out?
Solo is a good boxer with power. I feel that sums him up. He is dangerous with his punches outside of that I don't see much. He is 6-2 coming off a knockout loss. He has finished 4 of his opponents. I see this fight playing out as me coming out and landing some slick shots he will eventually get caught with an elbow and the night will end. It will be a fight for sure tho.
You had a pretty lengthy amateur career. What do you learn the most as an amateur?
I learned a lot, mostly patience but also to be well rounded. You can't be in this game and be successful if your only good at one thing. I lost two fights in a row because I wanted to lay on my back and sub people. I got tko'ed because I just wanted to bang after that. Gotta be able to mix it all up.
Is there someone on the regional scene you have your eyes on to fight?
No, my eyes are on Solo Hatley right now. After that, it's whatever hopefully the Contender Series, ONE FC or Bellator.
What are your plans moving forward? Is it the UFC or maybe something like Bellator, PFL, Rizin, or any other promotion?
Anywhere I can get paid and fight full time. I would love to fight in the UFC but if I can't I'll fight anywhere else. I love it, it's my obsession. One FC, PFl, Bellator I don't care something I can pay the bills and perform with.
If you weren't fighting where would you be today?
I don't know because it's hard to imagine me not doing this (MMA). Probably at Bad Boys Mowers pushing for something, like a salesman or the police force ranking up.
Last question. Why do you fight and who do you fight for?
I fight because I love it. I don't have any extra reason I just like to fight. My girlfriend is someone I would say I fight for. We have been together for six years. She has been tagging along through all of it. I fight for my sponsor's bad boy mowers who have been supporting me for 5 years now. But like I said earlier, I fight for me. I love this and not one thing or person motivations me more than me.