Genia Goodin will make her pro debut this weekend for the biggest promotion in women's mixed martial arts, at Invicta FC 35 this Friday.
Fighting in the strawweight division, Genia Goodin went 8-0-0 (1 NC) as an amateur. She is set to make her pro debut against Valerie Wong at Invicta FC 35, who is also making her professional debut.
First of all, how did you get into MMA?
My husband and I are high school sweethearts and I watched him fight several times during that time. Before any of the sanctioning or anything. I always wanted to try it for myself but didn't find the opportunity to until I met Scott Hope at one of my husband's fights. I got started into BJJ after that & just went from there.
Any background in any other sports?
I've played sports my whole life, starting with basketball in 2nd grade. I mostly stuck with basketball but also did track in high school where I went to state in hurdles.
Where are you currently training and who are some of your main sparring partners?
Currently, I train at Shield Systems in Knoxville TN, my main training partners are Amy Coleman, Zack Hammock, Joseph Hishmeh, Wade Wilcox, and for this fight, we also brought in Jakob Clemons.
You had that No Contest in May of last year due to a cut against the cage. Can you talk about that injury and how it happened?
Well, the first round was her's, the second was mine so the third would determine the winner! I felt it was going pretty good for me until I ended up with my back to the cage. She went for a takedown at the same moment that I stepped on something sharp. The takedown was successful, and I landed on my knee on the sharp cage edge. She ended up jumping on my back in that moment of my shock and got the rear naked choke. I ended up with 3 stitches on the inside and I think 8 or 9 on the outside of my knee. She's pro now as well so I'd love that rematch since it didn't happen as amateurs. The fight isn't on YouTube or anything but you can watch it by searching Genia Goodin vs Hannah Guy on the Facebook search bar and it will bring up the fight on the Attitude MMA FB page.

What are your favorite striking and grappling technique?
My favorite striking technique is the high kick, I like to kick people in the face & my favorite grappling technique is the triangle choke.
List your accomplishments such as belt ranks, titles, etc….?
I have a purple belt in jiu-jitsu and green in judo. I was the first women's strawweight apex fights champion, and also won and defended the Hardrock MMA 115 belt. I won a national championship in MMA and have brought home gold in several state judo competitions as well as expert level naga gold.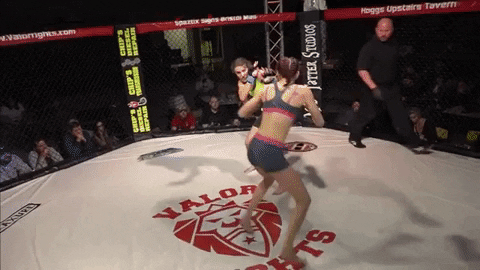 You moved from Kentucky to Tennessee to improve your training. How has the transition been including switching camps?
The transition has been super smooth, everyone at Shield Systems welcomed me with open arms and I feel right at home there.
What made your decision on going professional now and how excited are you that your first fight is with Invicta FC?
I couldn't really find a fight around my area as an amateur so we opted to travel for a fight. So My last amateur fight was in Kansas City against a tough opponent from one of the best gyms in the Kansas City area. After that fight the promoter I fought for called Shannon from Invicta and told her about the fight result and she ended up reaching out. I just went with the flow from there. I'm super excited to be fighting on such a big stage for my first pro fight. So much learning experience!
You're a mother of three (hope I'm right haha) so how has that impacted your career in MMA?
My boys are my biggest fans, it motivates me to win for them. Now that I am pro I know that winning lands me more money so that's always a plus when you have children.
You're fighting Valerie Wong. How do you think you two match up and what is your prediction on the outcome?
I think that Valerie is a very game opponent and I believe that anything can happen during this fight. Who knows. She seems to be good everywhere.
You're still young in your career but what are your long term goals in the sport?
I actually never really thought about going pro when I first started doing this. I am going to fight as long as I am physically and mentally able and then hopefully I can pass along what I've learned to others. So I would like to think my long term goal would be to become successful enough to teach others. Maybe open a gym in my area.