There is a wealth of MMA talent emerging from Brazil each and every year. The South American nation is one of the long-standing hot spots of the sport, thanks to former and current champions like Royce Gracie, Anderson Silva, Jose Aldo, and now Amanda Nunes and Deiveson Figueiredo. As we enter 2021, Luis Felipe Dias appears to be a name ready to break out — so here's a breakdown of the 25-year old prospect.
Tale of the Tape
Fighting out of Sao Jose dos Campos, Sao Paulo, Brazil
Age: 25
Weight class: Welterweight
Height: 5'11"
Training out of Parana Vale Tudo
Record: 14-3
7 KO/TKOs, 6 Submissions'
Pros
Excellent jiu-jitsu
Submission expert
Long jab
Fast hands
Heavy leg kicks
Good output
Dangerous in burst
Cons
Flat-footed
Does slow as the fight goes
Questionable chin
Telegraphs takedown attempts at times
Striking/Kickboxing: B
Luis Felipe Dias is labeled as a jiu-jitsu fighter but tends to test the waters on the feet. What stands out most is a heavy outside leg kick, a sticking jab, and a one-two. Dias is a patient fighter picking at his opponent on the outside. He fights in bursts. Dias does get a bit wild and does overreach in a lot of his strikes. He has the power and volume to back himself up though.
Movement: C
Dias is flat-footed for the most part. He's quick in burst when he decides to blitz in. Among the reasons he overextends a lot is because he's relying on speed and expensiveness besides cutting angels.
Clinch: C
Dias hasn't shown much in the clinch being a distance striker and a grappler.
Wrestling: C
Although he does have excellent jiu-jitsu Dias' wrestling needs work. Just about all of his takedown attempts see him essentially just dive in on the legs. Dias doesn't use setups resulting in a situation where many times when he does get a takedown, he has to work hard to get it there. Even in the takedown sequence, he leaves his neck out. With that said, Dias is so comfortable on the mat he will put himself it danger to get it there.
Grappling: A
I would rate the grappling of Dias very highly. From the time he touches the canvas he is constantly moving and working to finish. Dias has no fear of attempting submissions in awkward positions. Not sloppy in the slightest as he really knows what he's doing. Besides position over submission Dias is very tactical when locking up a submission. You can't ask for much more from Diaz in the grappling department.
Cardio: C
Although dangerous throughout the fight he does slow after the first round. Sluggish is maybe the best word. Dias still posses the same threat even in round two as three of his finishes have come in round two. He just becomes more labored in his movement and his reaction speed isn't up to par. If he gets the fight where he wants to be he won't need a round two however.
Defense: C+
Dias has been dropped, taken down, stopped by strikes, and submitted. All that was shown only against other credible fighters. He has not yet been dominated as he was caught in transition or in an exchange.
Overall: B-
Luis Felipe Dias is a solid prospect with a lot of good experience, and he's still relatively young. From the span of 2019-2020, Dias fought twelve times. Fighting twice last year he won the Cidade da Luta and the Shooto Brasil welterweight titles. In his last two losses, to Mario Sousa and Andre Fischer, he was winning the fights until he was finished. Dias is a special jiu-jitsu ace and he showed that in his last fight. In that fight Dias was on the back of his opponent. Not just going for a simple rear-naked choke he threw his legs up locking in an inverted triangle. While still in the triangle position he grabbed his opponent's leg for the suloev strech. It was a beautiful sequence.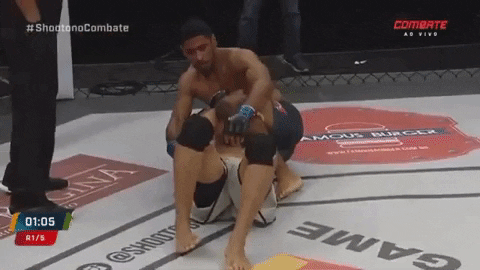 Dias is no one-trick pony having skills on the feet. He's not the cleanest striker but is a bit technical. Dias has quick hands and when he lands and hurts opponents, he's really good at following up with other strikes. The killer instinct with his hands is definitely there. He does have some power in his hands but the accuracy, speed, leg kicks, and volume stand out more.
Dias is projected for a big 2021. He should be on the verge of a big opportunity for a big promotion. He's on a seven-fight win streak beating a combined record of 87-55.