This month, our top prospect pick is Russian lightweight Yusup Raisov.
Age: 25-years-old
From: Grozny, Russia (born in Czech Republic)
Height: 5'9"
Weight class: Lightweight
Record: 16-1 (2 NC)
Who is Yusup Raisov?
Born in 1995 on the 22nd of June, Raisov is from the Czech Republic but has lived in Russia for years. Jumping right into it as a professional, Raisov made his pro debut in March 2014. Before signing with Absolute Championship Berkut full-time in mid-2015 Raisov fought for M-1 Global twice. In his two M-1 fights he was awarded the submission of the night. Raisov had his first chance of gold in December of 2016 against Marat Balaev. Raisov was expected to win but lost a close fight on the scorecards.
After a pair of wins follwoing his loss to Balaev the pair were set to rematch in December 2017. Balaev though would be forced to pull out and Raisov beat Alexander Peduson for the interim featherweight title. Five months later they finally rematched and Raisov won via a first-round stoppage putting a stamp on the rivalry. After that fight, Raisov decided to leave 145 behind him as he moved up to lightweight for the foreseeable future. Now since moving to 155, Raisov is 3-0 but on a 7-fight win streak combined.
Striking
Yusuf is a very technical striker and being so technical it makes you think he's had some sort of background in boxing. He throws a range of combinations from different angles. In combinations, Yusuf is usually throwing up to four strikes at a time which is sensational. Not just headhunting Raisov is good at going after the body mid-combination. He's more of a pocket striker unloading tight punches from a short distance which does make him much harder to read. Grade: A



Kickboxing
The Russian is good at mixing in leg kicks in combinations mixing them at the end of punches and sometimes will throw punches after a kick. He usually picks his shots with his kicks but will throw with some flash using spinning kicks. When he spins he does usually connect and he has a finish from a spinning kick to the liver. Not someone that will blow you away with his kicks but it is a nice tool in his toolset. Grade: B-
Clinch
Not spending too much time in the clinch, Raisov does hold his own everywhere including there. Being a strong wrestler he uses his wrestling against the cage to lock his hands together to get the fight to the mat. Grade: C
Movement
Raisov doesn't have fancy footwork but cuts the cage in half on his opponent. He'll cut his opponent off moving side to side making the cage smaller. He's got quick feet as well blitzing in into his way to wrestle. Grade: B-
Wrestling
The wrestling of Raisov is his best weapon by a large margin and that says something. Like a lot of Russian fighters, Raisov has high-level top-notch wrestling. Everything in this department Raisov does perfectly. If he doesn't secure the initial takedown he's good at chaining attempts together getting the fight to the mat the second time. Once the "Wolf" gets his hands clasped he is 100% getting that takedown. Raisov isn't someone that utilizes trips to get the fight down as he will change levels to secure double legs and singles legs with just classic wrestling skills. Grade: A+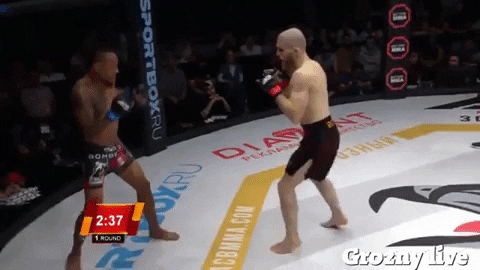 Ground game
Raisov is an animal on top, especially with his ground and pound. Even in full guard top position, Raisov is very good at landing damage. Raisov has educated ground and pound going to the body and head. He stays active putting on damage with punches and elbows while easily passing guard transitioning into dominant positions. Raisov at times will get into the crucifix position and unload with elbows/punches. His ground and pound is one of his better weapons but he has seven submissions to his name as well. He's excellent at giving no space on top being all over every scramble taking the back in an instant. Raisov is a huge threat at grabbing the neck weather if that's on the back or locking in an arm-triangle. With a great wrestling base, a dominant ground game is what you want and Raisov has exactly that. Grade: A+
Cardio
Raisov has gone the distance six times so he has that cage time experience. Going three rounds is no problem for Raisov doing it many times and he has the same pace throughout. That's pretty impressive given the pace Raisov fights at. Grade: A
Defense
Raisov has never been finished as his lone loss is via going to the scorecards. Of anywhere his defense has shown to maybe struggle a little bit, it would be is his takedown defense. He's been taken down many times and his first fight against Marat Balaev he ket Marat basically take him down at will. Raisov though is never content staying on his back, always working back to his feet and always in general moving off his back. He's also been dropped before but I believe he is the only fighter I've see dropped about three times in a round who still won the round. He's been caught in the pocket a few times but has been able to recover quite quickly. I would like to see Raisov move his head a bit more when he sets his feet. Still, Raisov has good enough defense and has only had one fight he really struggled defensively — against Balaev, but Raisov beat him in the rematch by submission in the first round.
Fighter comparison: Kevin Lee
Overall thought: Russia is absolutely loaded with talent outside the UFC like Rustam Kerimov, Alexander Shabliy, Vladimir Mineev, and many more. The one that stands out to me out of all Russian prospects is Grozny's Yusup Raisov. Raisov has some of the best wrestling in Russia and improved boxing. His only loss is to Marat Balaev which really in hindsight looked like an off night as when they rematched Raisov won in the first. To have the success Raisov has had especially in Russia and for a promotion like ACA/ACB says a lot about his talent. Fighting for ACA/ACB he's shone at both 145 and 155 beating nothing but stiff competition. In fact, his last seven fights the combined record of those opponents is 124-38 at the time they fought. Not only do I think he's the best prospect out of Russia he may be in my opinion the best prospect worldwide at the moment.