This month's MMA Prospect of the Month is South African bantamweight Demarte Pena, an undefeated fighter with a lot of upside.
Age: 30-years-old
From: Sunninghill, Johannesburg, Gauteng, South Africa
Height: 5'7"
Reach: 64.2"
Weight class: Bantamweight
Record: 11-0 (2 NC)
Who is Demarte Pena?
Born on September 29, 1989, Demarte Pena has been in martial arts ever since a young age. He trained Shaolin Kung Fu and Muay-thai as an amateur going 6-0 before transitioning to MMA. He also competed in Judo and Karate as well as grappling, collecting several amateur titles.
Pena got into MMA while he was in high school, messing around in the sport with a few of his friends. Wanting to test his skills, he was beaten by a relatively weaker guy. Pena was fascinated that he was submitted by a "weaker" opponent and decided to pursue MMA. He  captured an amateur record of 4-1 before going pro in 2011. He's fought for EFC Worldwide his entire career and won their featherweight title. He was their first EFC featherweight champion and their youngest champion in promotion history. Pena later moved down to bantamweight and won the title in that weight class in 2014.
In his last two fights, Pena defended his title against a very talented Irshaad Sayed but both fights were overturned to a no-contest. The reason being Pena, testing positive for testosterone and signs of anabolic steroid use. After his second offense in December 2017, Pena would be banned for four years and would later relinquish his title. Being away from the sport for quite a while he will be eligible to return soon, between November and sometime next year (Pena was given credit for time served during his provisional suspension, and had his wins overturned dating back to 2016).
Striking
From compared to how his striking was when he first started fighting it's come a long way. His reach is only 64.2″ (163 cm) so it's hard for him to find his range a lot of the times. With his limited wingspan, he tends to have to reach a lot. Despite that he has dropped opponents with his hands. On the feet Pena relies on his speed to burst in and out or counter his opponents coming in. He throws a good left hook to the body and throws at a pretty good rate. He is technically improved and has power in his hands despite not having a knockout win. Grade: C+
Kickboxing
Though mainly a wrestler, Pena has always had good kickboxing. Pena will throw sidekicks, switch kicks, ax kicks and hook kicks. He's a lot better staying technical just landing kicks to the lead leg going to the outside and inside. He'll mix it up going to the leg so much and then going to the head. He's scored a few knockdowns in his career from a head kick. You can see in his fight with Wentzel Nel, Nel was super aggressive early on by the continuous leg kicks to the lead leg slowed him down completely. Grade: B-
Clinch
In the clinch Pena will at times get takedowns using trips and dropping levels. He throws good elbows and muay thai plum knees. He is better once he separates and throws combinations on the break. A lot of times he's pressed against the cage and has trouble circling out. Grade: C+
Movement
Pena is light on his feet and has a good bounce to his step. He doesn't move around much unless he's stepping in and out throwing flurries. Nothing special stands out with his movement/footwork but he is quick enough to bounce right out of the way. Grade: C+
Wrestling
The wrestling of Pena is his best weapon by far. While he's getting more comfortable on the feet the wrestling is always a natural fallback he has. Pena is really good at exploding forward with the double leg. Almost always completing the first shot, he's always there to chain-wrestle which he does so well. In the clinch, he's good at just using inside and outside trips and dropping levels for the double leg. As he likes to fight off his back foot that's when he times his double legs perfect when his opponents are coming forward. Grade: A
Ground game
With such a good wrestling base, Pena finds himself on the mat quite often. His submission game isn't too strong: he does have two subs but it's nothing he goes for. He's heavy on top with strong head positioning and upper body pressure. Once he lets up on the pressure giving space he unloads with ferocious ground and pound. Pena will rain down hammer fist staying active, actively looking for the ground and pound stoppage. Grade: B-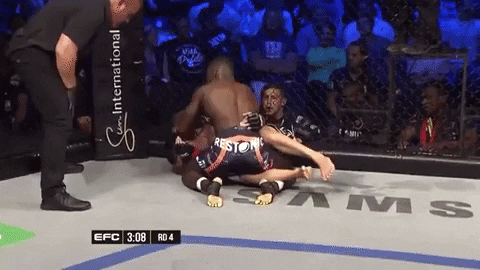 Cardio
Pena has gone the distance seven times. He has been a champion since 2011 and has defended his EFC title ten times. He has gone into the championship rounds nine times. His output may slow down a bit but he still fights the same throughout five rounds. Pena does a good job pacing himself never putting too much energy in early on. Grade: A
Defense
Pena has been taken down before and has been dropped but overall has an excellent defense all around. In the last couple of fights, he hasn't really found himself in any danger on the feet. His speed allows him to move just right out of the way defensively. Pena though will hold his hands low being a matter of time before he gets cracked. His takedown defense is pretty darn good, as he has only been taken down a handful of times in his career. Pena fights so low it's easy for him to get out of the way. Grade: A
Fighter comparison: Hunter Azure
Overall thoughts: Coming back soon from a long layoff and from a doping violation it's unknown how Demarte Pena will look. Still, at the time he was active he was one of the hottest prospects out there. Speaking on what he's shown, he's a fighter that would do very well in the UFC. His competition isn't great but beating guys like Nkazimulo Zulu and Irshaad Sayed (twice, albeit they were overturned) is respectable. Over time Pena has steadily improved and with this time off he may have really put in the work and could be even more of a beast than what he was. Since Pena moved down to bantamweight he is faster, stronger, and holds more power.