This week, we feature two up-and-coming fighters both inside and outside the UFC.  One is an unranked fighter competing on this week's UFC card, Contender Series alum Joe Solecki. The focus here is on a fighter who is and has never been ranked, but who could be one day. The other, Salahdine Parnasse, is a prospect outside the UFC who has a very high ceiling.
Lightweight, Joe Solecki (8-2)
UFC on ESPN 7 will be hosted in Washington D.C. and has a slew of up-and-comers. Most of the one of note, however, are ranked, mainly Yadong Song, Marina Rodriguez, and Jairzinho Rozenstruik. Digging a little deeper on the card, however, you find a younger, unranked prospect in Joe Solecki.
Solecki is coming off a win on the Contender Series this past Summer. He blitzed through James Wallace in a first-round submission earning himself a UFC contract in the process. Solecki is a BJJ black belt under John Hassett. He's won the 2015 IBJJF NY Nogi Open as a brown belt, 2014 FIVE Grappling Expert Division Champion (Lightweight), is a multiple time Grapplers Quest Champion in the Men's Expert division, and had some big super fight wins over Guybson Sa and a few other black belts.
Solecki is world class on the mat with some of the best pure BJJ we've seen debut in awhile. On the feet, he's exceptional though his defense needs some work — or just slight adjustments at that. He uses good low calf kicks and has a useful check right hook. Nothing that necessarily stands out but he can easily get better.
He's fighting 24-fight veteran Matt Wiman come Saturday, an opponent who could be considered very much past his prime. Wiman made his comeback after a five year hiatus against Luis Pena recently. It didn't go well for the returning fighter. Wiman was beat down en route to a third-round stoppage.
This is a much closer fight stylistically, with Solecki being a jiu-jitsu player. Interestingly enough Wiman has never been submitted in his career. It's a fight Solecki should win but a fight, even more, to show where he's at in his game.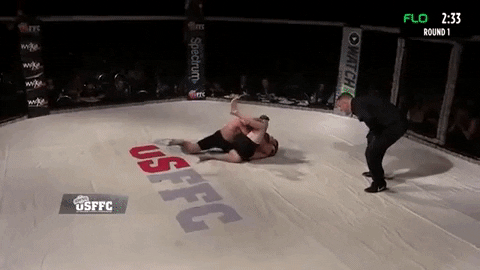 Featherweight, Salahdine Parnasse (13-0-1)
Parnasse is an amazing talent who has a bright future in MMA. At only 21-years-old he's already the KSW featherweight champion. The French native has only fought one opponent with a losing record. The level of competition has been fair as his opponents have a combined record of 104-63 at the time they fought.
Parnasse would prefer to keep the fight on the feet where he can use his effective movement and a good kickboxing base. On the feet, he does a good job of moving in and out and really loves to attack with leg kicks, which set up his strikes better. One of his best attributes is his cardio as he can fight at the same pace for three rounds, which often puts him above his foes. Parnasse has four wins by submission, all coming via choke, so he is well-rounded in all areas. For more about Parnasse, check out our previous Prospect of the Month feature on him here.
This Saturday at KSW 52 Parnasse will take on Slovakian Ivan Buchinger. The 43-fight veteran Buchinger is well-known as he's a former lightweight Cage Warriors champ and a former featherweight M-1 champ. Buchinger has the high-level experience that posses an interesting threat to Parnasse. If Parnasse can go out there and beat Ivan that makes him an even more complete top prospect.