Moldova's 'Solitary Wolf' Valeriu Mircea gets the nod as our MMA Prospect of the Month.
Nickname: The Solitary Wolf
Age: 26-years-old
Born: Chisinau, Moldova
Height: 5'8″
Reach: ?
Weight class: Lightweight/Featherweight
Record: 25-5-1
Ranked #1 in Europe Western among featherweights according to Tapology
Ranked #118 worldwide among featherweights according to Fight Matrix
Who is Valeriu Mircea?
Born on October 5, 1993 Mircea was only 20 when he started fighting five years ago. Mircea stumbled upon MMA watching fights on Youtube and four hours later he was intrigued. A day later he and a friend went to a local MMA gym and he was hooked, never missing a workout since. Not taking a single fight as an amateur, Mircea jumped right in there as a pro taking on an opponent with thirteen fights in his debut. He won that fight in the first round by submission.
Born in Chisinau, Moldova Mircea now lives in Rome, Italy. There, he trains with Gloria Fight Center where fighters like Alessio Di Chirico, Carlo Pedersoli, and Mauro Cerilli train. Only 26-years-old, Mircea has a lot of experience with 31 fights. Along the way, he's won four European titles. Fighting at 155 originally, he recently moved down to 145 and won the Eagles Fighting Championship title.
Striking
Fighting at an orthodox stance his right hand is his primary weapon. He's not much of a volume striker as he is more of a one-strike-reset fighter. Mircea will spam the right hand and usually it's an overhand he throws. He will land more than he misses though and has a lot of power in what he throws. Mircea is a good counter striker as well but is more effective being the aggressor. Hardcore fans also know Mircea loves to throw elbows. He will throw the lead elbow from the outside into the pocket. A very good technique as its something he thrives at, especially when he smells blood.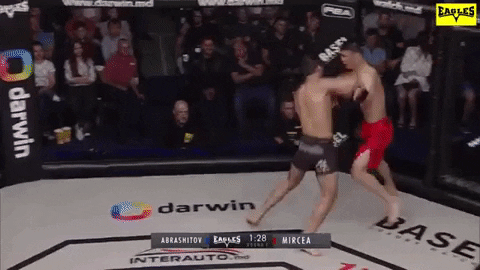 Kickboxing
Mircea stays pretty conventional with his kickboxing. He will at times kick to the body or the head. He does do a good job of attacking the lead leg of his opponents. Mircea will kick the inside and the outside of the leg and throws heavy with his hips. It's an area where he's dangerous but something he doesn't use nearly enough.
Clinch
The clinch is the area you won't see Mircea in too much. He is physically strong but not too effective with any offense. It should be where he throws his elbows, and it is somewhere he's good at utilizing trips. But with that said, he easily gets tripped to the mat himself.
Movement
Mircea isn't a fighter who is light on his feet using fancy footwork. He is a fighter who will walk his opponent down and cut off the cage. Going backward he moves pretty well though. It's something that won't make or break him.
Wrestling
Mircea does wrestle often and so far he's done pretty well. In the clinch he is physically strong, and a lot of his takedowns come from body locks. Mircea is good at grabbing a leg and kicking the other leg out underneath. As noted he does a good job utilizing trips from the clinch. He knows what he's doing for sure even if it isn't his strong suit.
Ground Game
Preferably on top that is where Mircea likes to be. He's perfectly comfortable sitting in the guard and landing strikes. He's not nearly as active as he should be though. More of a fighter that will hold position beside someone, that looks to transition to improve position. Mircea is patient but can take that a bit too far.
Cardio
Mircea is a bit of a slow starter who has three third-round finishes and a few second-round finishes. As the fight goes on his pace does slow a little but is always dangerous. Mircea has gone the distance five times and has only lost one of those
Defense
On the feet, Mircea is hardly ever in danger, and it's small things he could improve on. Mircea tends to reach a bit with his strikes, making him open to counters. Defense-wise where he lacks the most is off his back. Though his takedown defense struggles, he's not terrible with it. Being good as stuffing the initial shot, Mircea has trouble breaking away from chain wrestling. Off his back, it's his movement that lacks. Mircea is content on staying on his back and creates zero space with his hips to try and get back to the feet.
Final Thoughts: Mircea started off his MMA career with a padded record. His first eight opponents were lower-tier fighters. Lately though, he's fought better competition with names like Djamil Chan and Anton Kuivanen sticking out. 'The Solitary Wolf' is an exciting fighter who surprisingly isn't signed to a promotion. He had a small stint in Bellator going 1-1 and that loss came to Goiti Yamauchi who is a stud. Mircea recently moved down to featherweight and he looked solid with a quick finish. He's still 26-years-old with a lot of experience. On a six-fight win streak promotions like Bellator, UFC, Rizin, PFL, or ONE Championship would be wise to sign him to an exclusive contract.