There was a whole lot of MMA to sift through in September, including a couple of Bellator tentpole events. Which gave us plenty of worthwhile prospects to catch up on.
MMA has no off-season, resulting in an endless barrage of talent being thrust upon the masses. Some might argue that you can't have too much of a good thing, but that still leaves a lot of fights to watch.  With that in mind, here's the latest edition of our prospect watch, featuring up-and-comers who really stood out last month.
Welterweight, Louis Glismann (6-1)
Watching Glismann dominate and get the armbar (a favorite submission) was impressive. The fighter he beat was former UFC athlete Craig White. While White hasn't always impressed, it's hard to deny his toughness and how dangerous he is off his back. Glismann easily took him down and dominated with solid jiu-jitsu. He passed guard easily and would get the s mount and finish with the armbar. White verbally tapped.
Grade: C+
Louis Glismann gets the verbal tap to improve to 6-1! #CWUnplugged2 pic.twitter.com/F5RV71Tm4s

— UFC FIGHT PASS (@UFCFightPass) September 6, 2019
Bantamweight, Jack Cartwright (7-0)
Cartwright was quite unknown coming into this Cage Warriors 4-man bantamweight tournament. He was the only competitor not to compete for a Cage Warriors title yet. He made the most of this opportunity and knocked out both Scott Malone and Marko Kovacevic in the first round. Being a bit wild, as shown in his second fight, he proved he can crack for a bantamweight. Cartwright also showed some solid TDD in both fights. 7-0 and seven first round stoppages.
Grade: B+
1st ROUND KO 💥 What a debut!

Jack Cartwright ends it in one! He advances to the finals of our bantamweight tournament by making quick work of his opponent 😱#CWUnplugged2 pic.twitter.com/SMTTkFDVSu

— Cage Warriors (@CageWarriors) September 6, 2019
Now you know!

Jack Cartwright becomes the CW Bantamweight Champion by knocking out 2 former title challengers in the first round in one night! 🤯#CWUnplugged 🏆 pic.twitter.com/dinqbm2Le9

— Cage Warriors (@CageWarriors) September 6, 2019
Middleweight, Ty Gwerder (4-0)
Making his televised debut for Legacy Fighting Alliance, the Xtreme Couture product Gwerder looked good. Fighting a much more experienced fighter in Mike Jones (7-5), Gwerder ran through him ending it in the first round. Gwerder stunned Jones earlier in the fight with his hands before landing a brutal liver kick for the knockout.
Grade: C+

LIVER KICK. Ty Gwerder KO's Mike Jones in R1#LFA75 pic.twitter.com/idJarBVHnH

— caposa (@Grabaka_Hitman) September 7, 2019
Flyweight, Sean Gauci (6-1)
Flyweight struggles when it comes to prospects and it's too soon to tell how good Gauci is, but he still looked solid. He got it done on the feet scoring the TKO finish in round one. Gauci sat in the pocket and showed good boxing with the jab, attacking the body and countering very well. He dropped his opponent early in the round with an overhand right. He didn't find the finish then but almost locked in a guillotine. Not even a minute later Gauci landed a counter right dropping his foe again this time getting the finish. Good performance moving to three consecutive wins but needs a step up in competition.
Grade: C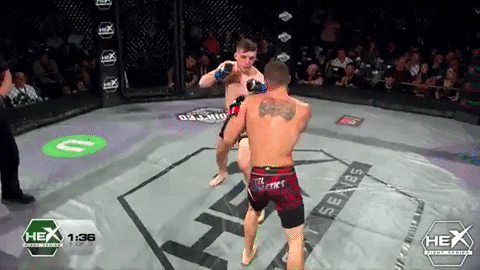 Middleweight, Vladimir Mineev (12-1)
Making his return after nearly a year, Mineev got back to his winning ways walking through his foe. Mineev had a very articulate approach landing the jab, using some feints and most importantly his kicks. The Russian threw the front kick a few times to keep distance but it was the leg kicks that were the story. Mineev attacked that left leg of his opponent over and over landing it many times. He had his opponent hurt from those kicking attacks and would have him lifting his leg to check, setting things up for Mineev to get the easy takedown. Mineev standing in the guard had to land but one punch to the solar plexus, and his opponent was down and out.
A very easy first-round finish from Vladimir, who we'll revisit later on as he fought twice in September.
Grade: C+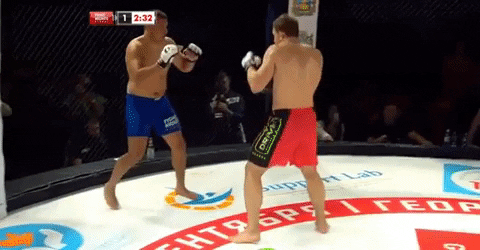 Welterweight, Ian Garry (2-0)
Italian opponent Matteo Ceglia wanted nothing to do with Garry on the feet so would pull guard every chance he had. Garry was never in danger showing good defense and always getting back to his feet. He landed the jab often and had a couple of heavy leg kicks. Garry into the second round landed a question mark jab smacking the jaw of Ceglia dropping him for the highlight finish.
Grade: C+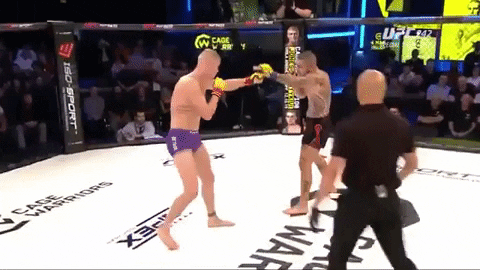 Strawweight, Aleksandra Rola (3-0)
Rola made her KSW debut against a tough Catherine Costigan and finished her in round two. Rola showed that on the feet is where she looks to be the most dangerous. She got a takedown in round one but had nothing to really show on top. The native out of Poland got the finish in round two in the thai plum landing elbows and knees until the ref stepped in.
Grade: C-
Aleksandra Rola (3-0) kicks things off with a win in her KSW debut, corraling Cage Warriors vet Catherine Costigan with knees and elbows for an early second-round TKO. It is the Pole's first pro finish. #KSW50 pic.twitter.com/zs1dX1FJfw

— Kyle Johnson (@VonPreux) September 14, 2019
Bantamweight, Khusein Askhabov (20-0)
Askhabov fought a tough opponent in Luiz Filho and he ran through him early in round one. Askhabov opened up aggressive with two heavy outside leg kicks taking the legs out from underneath Filho. From there Askhabov landed an emphatic belly-to-back suplex and would quickly finish with the arm-in guillotine. That's now a big 20-0 for the Luxembourg born.
Grade: B+
That was quick. Khusein Askhabov (now 20-0) guillotines Luiz Filho less than 90 seconds into R1 #WWFC pic.twitter.com/H4bu1ucD5M

— caposa (@Grabaka_Hitman) September 21, 2019
Lightweight, Kirill Gorobets (9-1)
Gorobets continues to impress with highlight-reel finishes, this time ending the fight with a rare Peruvian Necktie. The Ukrainian did land a few glaring head kicks but really got it done with his wrestling and top control. He landed four takedowns and would get dominant positions such as the mount and the crucifix. Goroberts kept active with ground and pound and moved light on top until he eventually found the finish.
Grade: C+
Strawweight, Svetlana Gotsyk (13-4)
This was a very important fight for Gotsyk as she has fought Magdaléna Šormová previously, losing the WWFC title a little over a year ago. Gotsyk got off to a rocky start early in the fight getting easily taken down. Gotsyk though is comfortable fighting off her back. That comfort later allowed her to go for the head and arm throw, which is a 50/50 risk. And it did fail,  resulting in Gotsyk finding herself on her back again. Gotsyk stayed busy off her back in the guard working her legs up and would threaten with a triangle. Šormová attempted a Rampage-like slam and on the impact, Gotsyk locked in an armbar and Šormová tapped.
Grade: C-
Svetlana "The Phoenix" Gotsyk eats the slam and secures the armbar, submitting Magdaléna Šormová in R1. And new WWFC strawweight champ – WWFC pic.twitter.com/lIPyCOMckM

— caposa (@Grabaka_Hitman) September 21, 2019