Get to know George Garcia ahead of his M-1 Challenge bout on August 30th. Garcia is looking to improve to six wins in a row and continue his path to M-1 gold.
Fighting at M-1 Challenge later this month, 10th Planet Jiu-Jitsu member George Garcia rolls into the fight on a five fight win streak, and 7-1 since 2016. His only loss in that span came to Contender Series and Ultimate Fighter vet Kyler Phillips. We spoke to the talented bantamweight ahead of his bout against Bair Shtepin at M-1 Challenge 104.
First of all, how did you get into MMA?
I first got into MMA just by watching fights on YouTube, and then it led to me training in my backyard with my friends and eventually I took an underground fight that was completely illegal. From then on, the rest was history and I started training seriously.
Do you got any background in any other sports? If so, explain?
Yes, I have a background in other sports – I first started Karate as a kid and practiced for about 10-years. In between Karate, I wrestled in high-school where I started to get more into MMA.
What is your career or would MMA be your full-time job?
MMA is my career. I'm a full-time fighter. When I'm not training for a fight, I'm training others and teaching classes.
List of accomplishments such as titles, belt ranks, etc…?
The U of MMA Featherweight Champion (amateur)
CXF Flyweight Champion
CXF Bantamweight Champion
What has been the high of your career and what has been the low (if there is any)?
The highs of my career have been the signing with M-1 Global – it's a great show with a lot of talent. I get to travel and see the world, all while fighting. The opportunity to face tough international competition is the next step to becoming a world champion. The lows have been my losses – we all hate to lose, but it's part of the game we play.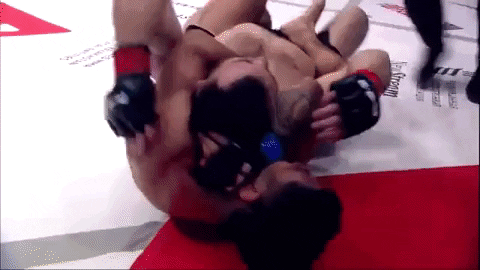 What are your favorite striking and grappling technique?
I don't really have a favorite striking technique, I kind of like to do everything. However, my favorite grappling technique would be the Rear Naked Choke. I've finished 7 out of 9 opponents with that move so it's definitely my go-to.

Fighting at Flyweight in the past, is that a weight class you would still like to fight at in the future?
No, flyweight was too much on my body, most training camps were mainly cutting weight and not focusing on the actual training. I like myself at bantamweight, less stress on the body and I feel in the best shape when I'm at 135 lbs.
As you are currently signed with M-1, how was it fighting in Kazakhstan for the first time? Also, how has your short time been with M-1?
Fighting in Kazakhstan was great. I got to see a whole part of the world I never thought I'd see –it was a great experience. The short time I've been with them has been enjoyable. I can't wait to see what the future holds.
You're set to fight Bair Shtepin coming up. What do you think about him as an opponent and how do you see this fight playing out?
My opponent Bair is a tough guy – very precise in his striking and very patient too. I see the fight playing out with me on top. I have to just make sure I execute my game plan with little to no mistakes because he is dangerous.
If you weren't fighting where would you be today?
If I wasn't fighting, I'd probably be in an office somewhere working a 9-5. There's nothing wrong with that, but I'm someone who likes to move around. I can't sit still for a long period of time so the career I chose fits perfect.
You will talk to most fighters and their goal is usually always the UFC. Can you say the same?
Yes, I can say the same, that's top-tier when you're in the UFC. But my goal isn't just to get to the UFC – my goal is to stay there and become champion. I want to cement my name in the history books.
Does your mustache give you powers?
I don't believe my mustache gives me powers or at least I haven't noticed yet hahaha! It's like Spider-Man, he doesn't realize he has powers until later in the movie. So maybe later down the line, I will realize I have a gift. But it does give me style points!

Last question. Why do you fight and who do you fight for?
One, because I enjoy the competition. Two, because it shows who you really are deep down inside. I was always a kid, who held his emotions in, and I was always taught to just suck it up and keep moving. I never really tried to feel sorry for myself. This sport exposes your true colors and exposes your true character, especially when the going gets tough, your back is against the wall and you have no choice but to mentally and physically fight back.
I'm not just someone who enjoys training and likes to fight. I'm someone who wants to fight for his dream to be a world champion. I want to show people that you don't have to work a regular job. You just have to fight for what you want, and you will get it as long as you are willing to do whatever it takes for it.