Joel Bauman is full of confidence heading into his promotional debut at Bellator 224, calling his prospect of an opponent, Jordan Young, a sacrificial lamb.
Being in love with martial arts, it was a dream ever since Bellator 224's Jordan Bauman was a kid to follow the ways of Bruce Lee.
"I actually planned on making my own UFC until I found out the UFC was actually a thing. I was writing a paper on it in 4th grade"
Fighting out of Saint Paul, Minnesota, Bauman trains out of Spartan MMA. Bauman is only 3-0 as a professional but went 6-0 as an amateur winning three titles in the process.
In every fighter's career, you will have your ups and downs as in your highs and lows. For Bauman, that isn't the case just yet
"There's been no lows. I guess the low is that I have to let people allow to see how high I really am."
Bauman is coming off an impressive win in his first televised fight for LFA 68 on May 31. Cageside Press asked him how is that how he envisioned that fight playing out.
"Not necessarily in that way. My goal was to go in and show people what I'm capable of. Because at the end of the day I always told people when it matters on go pay me. Pay me and I will show out. Now that it's on TV it finally matters and people can see what I'm actually capable of."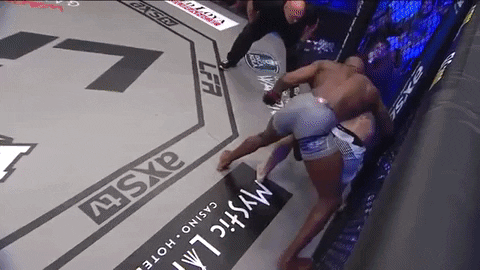 His next fight will be July 12 in the biggest fight of his career at Bellator 224. His opponent will be five-fight Bellator veteran Jordan Young. Being in Bellator for a while, there is some hype behind Young. The fans, knowing more of Young, may think this is a setup fight for him.
"Young, in my opinion, you know he is a rising star cause because he's fought who? Who has he fought? He's had five fights in Bellator, totally cool. I can name a list of guys that have a whole bunch of fights in Bellator who are 10-0 but they haven't fought anybody. So what does it matter if it's me? If you feel like I'm expected to lose, no I feel like they're making him the sacrificial lamb. I'm coming up a weight class so what are we talking about? I don't even have to cut weight for this. So it's ridiculous to think that people think I'm expected me to lose. I don't see it going past the first round."
This fight at Bellator 224 is only a one fight deal for Bauman. You will see Bellator do this many times as they will sign them to an exclusive contract if everything goes right. At times, you will see other promotions take advantage and sign that fighter to an exclusive deal themselves.
"At the end of the day, I told myself I was going to be a UFC champion by the end of 2020. There's a reason for that. If Bellator was willing to offer me money or whatever the case may be we will see how the universe will allow things to play out."
Outside of fighting, Bauman is an affiliate for Childhood Malnutrition for a business. While he's made a living from it, it's also the reason he fights.
"I fight to eradicate childhood Childhood Malnutrition for the planet. EvolvHealth's goal is to eradicate childhood Childhood Malnutrition from the planet or just malnutrition. By fighting, I get that message out there and by getting that message out there, I grow the business. I grow my business and bring awareness to the cause. We will be the biggest company on the face of the earth when people really see what we're doing and realize what we're doing. It's a matter of allowing people and giving them the opportunity and the chance to hear about it. We just decided to do this whole Buy One Nourish Two Program and I said, well shit now I have no more reason not to fight. I've always found an excuse, I never really liked to hurt people. Martial arts has been sacred to me but when we decided to eradicate Childhood Malnutrition as a company I said, I can fight for that."