Ronda Rousey has been on quite the journey in her combat sports career and her personal life. That path has led her to be a part of WrestleMania's first all-women main event.
A storied career once thought tarnished by unprecedented publicity comes full circle on Sunday as 'Rowdy' Ronda Rousey is set to headline Wrestlemania 35 against Becky Lynch and Charlotte Flair at MetLife Stadium in East Rutherford, New Jersey.
Ten years ago, the likelihood of a woman main eventing a pro wrestling seemed ludicrous outside of the independent scene. Women in the WWE were booked to be no better than glorified bikini contestants, and UFC president Dana White had openly mocked the idea of women even competing inside the Ultimate Fighting Championship's octagon.
Then came the unlikely success of Ronda Rousey.
It was unlikely at the beginning that Ronda would even be able to speak due to apraxia, a neurological condition that left her unable to form intelligible sentences until her parents sought intense speech therapy at Minot State University that lasted several years.
The punches never stopped coming at Ronda.
Ron Rousey committed suicide when Ronda was just seven when he learned he would be a paraplegic after a tragic sledding accident with his daughters. Ron's father, Ronda's grandfather, had also taken his own life.
Rousey trained with her mother and became a judoka at age 11, qualified for the 2004 Olympics in Athens as a 17-year-old and then won a bronze medal in the 2008 Olympics in Beijing at 21 — becoming the first woman to do so since Judo's establishment as an Olympic sport in 1992.
The accolade was parallel to her mother's career as a judoka. AnnMaria De Mars, Rousey's mother, became the first American to win a gold medal in the World Judo Championships at the 1984 World Judo Tournament.
Rousey would retire in her old career at 21 and find another passion in the world of mixed martial arts. For every low in Rousey's personal life, there would be a new high in her professional career.
Ronda would begin her historic run going 3-0 as an amateur fighter, then a perfect 6-0 as a professional, during which she would start an emotional rivalry with Meisha Tate and win the Strikeforce Women's Bantamweight Championship. The Rousey/Tate rivalry interested UFC President Dana White, who had been blind to the potential of women's MMA prior.
"I think this is the woman that can blow this whole thing up," Dana White said of Ronda Rousey.
"Best decision I ever made and now look at what Ronda started and, you know, I've learned a lot since 2011 when I said no women would ever fight in the UFC."
Ronda Rousey was awarded the UFC Women's Bantamweight Championship after the UFC acquired Strikeforce and the promotion folded. 'Rowdy' Ronda Rousey's debut would come against Liz Carmouche at UFC 157. Carmouche nearly made history herself as she took Rousey's back early in the fight and almost choked out the former Olympian. Ronda composed herself and locked in a signature armbar to submit Carmouche at the end of the first round of the historic bout.
Over 450,000 fans ordered UFC 157: Rousey vs. Carmouche on Pay-Per-View. The event was a tremendous success and marked the birth of a new cultural icon. Rousey's career up until that point had mainly been reserved for only the most hardcore of mixed martial arts fans — but now that Ronda was in the UFC she had the ability to transcend sports.
Ronda Rousey became known for the perceived effortlessness of her victories. All of her fights went something like this: Ronda Rousey would make a fiery entrance to Joan Jett's "Bad Reputation," the bell would ring, Rousey would quickly engage the clinch and flip her opponent onto her back, and she would quickly lock in an armbar to secure the stoppage victory. Occasionally, she'd record a knockout. Ronda Rousey in her prime was phenomenal.
Rousey's fights were must-see Pay-Per-View TV.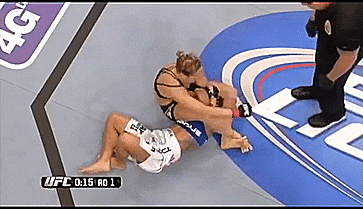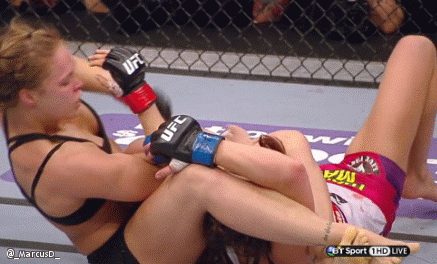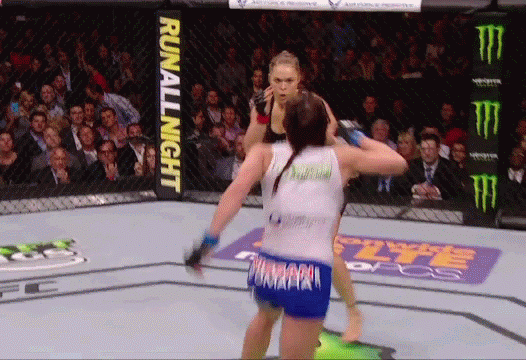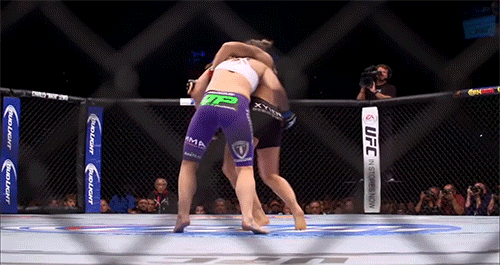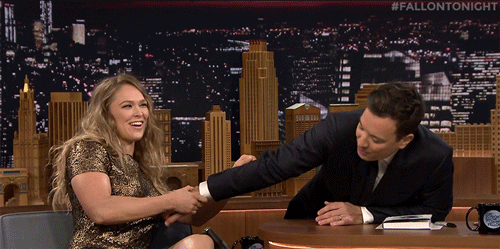 Ronda Rousey's UFC Title defenses captured the minds and hearts of people who had no interest in mixed martial arts prior. A cold and ruthless woman routinely and effortlessly kicked ass and was remorseless inside the Octagon and was a smiling sweetheart media darling outside of it.
At the time, she had no definitive weaknesses inside or outside of the cage. She appeared invincible — all up until November 15, 2015, the night she lost to Holly Holm.
Rousey came into UFC 193 riding a 12-fight professional win streak in which she recorded nine armbar finishes, won four performance of the night bonuses, a fight of the night bonus in her rematch against Meisha Tate, and knocked out the likes of Sara McMann, Alexis Davis, Beth Correia in mere seconds. She was also universally praised for her striking, something that likely hindered her career path, as she remained loyal to the trainers and coaches that 'got her to the dance.'
In Rousey's path stood Holly Holm, a multiple-time world champion in boxing that was twice named Ring Magazine Fighter of the Year that had defended her boxing championships 18 times across three different weight classes and had yet to taste defeat in the Octagon.
Rousey had no answer for Holly Holm on November 15, 2015.
Ronda's striking was no match for Holm's technical approach and skillset and her ace in the hole, the judo takedown/armbar combo, was out of the question because Ronda ate punches every time she tried to close the distance. The end result was the kick seen 'round the world:
After suffering the traumatic knockout loss to Holm, Rousey appeared on The Ellen Show to share how broken she felt in the moments after the loss:
"…What am I anymore if I'm not this? And I was literally sitting there and like, thinking about killing myself and in that exact second, I'm like 'I'm nothing. What do I do anymore!?' Ronda told host Ellen DeGenerous.
"No one gives a shit about me anymore without this."
This time it was a little different — Ronda Rousey's personal life would lift her up when she stumbled inside the cage. She would credit her then-boyfriend and future husband Travis Browne and his support during this rough time for saving her life.
On October 12, 2016, it was announced by UFC President Dana White that Ronda Rousey would return at UFC 207 on December 30 for the year-end card and challenge UFC Women's Bantamweight Champion, Amanda Nunes.
During this training camp, Rousey maintained a media blackout in which she didn't have a single media obligation — something unprecedented at the time, as the UFC would punish other fighters for missing media obligation and press conferences.
"If you look at the amount of press that's been done by any fighter in UFC history, Ronda smokes everybody, by a long shot," UFC President Dana White explained to the media ahead of UFC 207 after being questioned about Rousey's media absence.
Rousey would return at UFC 207 looking to be in the best shape of her career — but a lack of coaching changes and addressing the holes in her fight game led to her quickly being outclassed on the feet against Amanda Nunes. The woman who still holds the UFC Women's Bantamweight Championship to this day.
Nunes knocked out Ronda Rousey in the opening seconds of the first round and made her look silly in the process.
Fans and critics online were ruthless. Rousey's striking that was praised and built up by the UFC as superhuman was openly criticized and memes about Ronda Rousey being lit up like a Christmas tree made their rounds on social media as the people that once cheered 'Rowdy' Ronda Rousey distanced themselves from the former UFC Champion.
Her mental state was routinely the topic of many MMA shows and podcasts and fans questioned Rousey's ability to bounce back from another defeat after her past talks of suicide. Rousey refused to talk about the loss to Nunes for a significant period of time, as she had done when she was defeated by Holly Holm.
Rousey told ESPN that the only thing that helped was finding something else — in this case, her other passion was wrestling for WWE.
It had been no secret that Ronda Rousey was a huge fan of professional wrestling, as she had called her stable of MMA fighter friends 'The Four Horsewomen' after Ric Flair's Legendary four-man faction, 'The Four Horsemen.' MMA's version of the Four Horsewomen consists of Ronda Rousey, Shayna Baszler, Jessamyn Duke, and Marina Shafir.
Rousey had even made her WrestleMania debut years prior at WrestleMania 31 when she was still the UFC Champion in a segment with The Rock, Triple H, and Stephanie McMahon — something that would ultimately turn into a WrestleMania match years later as Rousey teamed with Kurt Angle to face Triple H and Stephanie McMahon at WrestleMania 34.
It was reported in 2017 that Rousey had signed a full-time contract with the WWE — a dream of hers since she was a child.
Ronda Rousey would debut as a beloved babyface, a character carefully crafted to generate positive crowd reactions — and she thrived in this role.
After working for months at the WWE performance center to perfect the craft of pro wrestling, 'Rowdy' Ronda Rousey would make her debut at the Royal Rumble — putting the Women's Champions of both Raw and Smackdown brands on notice.
It's worth noting that WWE Legend and Hall of Famer Roddy Piper gave Rousey his blessing to use the 'Rowdy' nickname and that she even wore his leather jacket that was given to her by Roddy's son in her full-time debut at the 2018 Royal Rumble.
Rousey would go on to make her in-ring debut as an active competitor at WrestleMania 34 in 2018, and wrestling historian Dave Meltzer would note on an episode of his Wrestling Observer Radio show that Rousey had one of the better pro wrestling debuts in history and that she at no time looked out of place.
Rousey would go on to defeat Alexa Bliss for the WWE Raw Women's Championship on August 19 and still holds the title heading into WrestleMania 35 this Sunday.
It's no secret that professional wrestling is a scripted drama, so to give a quick summary of what's going on right now in storyline terms:
Ronda Rousey is fed up with wrestling fans because they turned their back on her in the past and she no longer wishes to gain their trust or support. Instead of getting cheered, she cuts angry promos and berates her fellow wrestlers and fans alike in order to get an angry reaction from the crowd. Her character mocks the idea of professional wrestling.
Rousey is the champion of the Raw Brand and established as the best wrestler on Raw. Ronda Rousey's character could be compared to 'The Mountain' on Game of Thrones — in wrestling storyline terms, she's currently seen as undefeatable in any one-on-one matchup.
Charlotte Flair is the daughter of WWE Hall-of-Famer, Ric Flair — who happens to be one of Ronda Rousey's biggest inspirations. Charlotte is the current Smackdown Women's Champion and established as the best wrestler on Smackdown. Charlotte Flair would kind of be like the Cersei for you Game of Thrones fans out there.
Becky Lynch is guaranteed a title opportunity at WrestleMania because she won an important 30-woman match at The Royal Rumble. Becky Lynch has recently become a mainstream star because the fans relate to her character and want her to succeed and win the Championship very badly. Becky Lynch could be compared to Game of Thrones' Arya Stark.
All three women will compete in the main event of WrestleMania 35 this Sunday — a historic moment for a male-dominated industry as WrestleMania is the biggest stage the WWE can offer.
Truth be told, 'Rowdy' Ronda Rousey's storyline in WWE isn't nearly as interesting as the real woman behind the scenes that portrays her and WrestleMania 35 will likely end with Becky Lynch winning becoming the Undisputed WWE Women's Champion — it's Becky's moment.
What WrestleMania does signify is a growth in the real Ronda Rousey's character.
A woman who was openly mocked and fled from the world after two humiliating defeats for years at a time has found the strength to become a character that is comfortable with her past struggles and defeats being brought up by opponents and used for promotional purposes. Better yet, Ronda's comfortable standing on her own in the very unforgiving world of professional wrestling.
In all, Ronda Rousey is responsible for over 6,000,000 UFC pay-per-view buys and her success was part of the reason the UFC was able to be sold to WME-IMG for $4 billion in 2016. Ronda Rousey was inducted into the UFC Hall of Fame in 2018.
It remains to be seen how Ronda Rousey's WWE career will end, but the next chapter will be written this Sunday at WrestleMania 35 as she faces both Becky Lynch and Charlotte Flair in a Three-Way Dance in East Rutherford, NJ.