When everyone in attendance is on their feet and emotions are running high, that right there is the pinnacle of combat sports.
The high of a crowd pop in any entertainment venture is priceless; The feeling of raw emotion coupled with the inability to coherently think. It's the "good stuff." It's magic.
Last weekend, the Deontay Wilder vs. Tyson Fury 12th round knock-down and The Gypsy King's improbable return to his feet led to one of the biggest crowd pops in recent memory from any sporting event.
Deontay Wilder drops Tyson Fury in Round 12:
This is Wilder knocking out Fury in the 12 round in real time (no slo-mo edits or cut aways). Fury hits the floor at the 0:3 second mark, and he is back on his feet at 0:14 second mark. Can anyone explain to me how this ISN'T a knockout? pic.twitter.com/ECT3TBJUZA

— Tariq Nasheed (@tariqnasheed) December 2, 2018
You can see how the crowd is overwhelmed, unable to think, and overcome with emotion. Within the 9.99 seconds it took Tyson Fury to recover from Wilder's two-punch combo, every fan watching that moment made an important connection with either Wilder or Fury and that will make them returning customers with many years to come.
This all got me thinking — Do we get to experience the high of a crowd pop enough in MMA? If we do, do these pops occur at the proverbial 11th hour when most fans or watching during the main event/co-main, or are those moments lost in time for better or worse?
We're definitely treated to a few overwhelming moments each year in the sport of MMA, so let's take a look at some of the biggest MMA crowd pops in recent history:
UFC 218: Francis Ngannou KOs Alistair Overeem
Before Francis Ngannou lost and subsequently re-found his mojo, he was slotted in the co-main event against the dangerous Alistair Overeem in a number-one contender bout for the UFC Heavyweight Championship. It took Francis Ngannou just 1:42 and a huge left hand to get everyone at the Little Caesars Arena on their feet and roaring.
Francis Ngannou was nearly a household name at that moment in time.
UFC 229: Derrick Lewis KOs Alexander Volkov
At UFC 229 Derrick Lewis was handled by Alexander Volkov with ease… that is, until the last minute of the fight when Lewis was able to connect with a series of hellacious shots that separated Volkov from his senses. At the 13-second mark of the video, you can see the crowd start to become unglued as Derrick Lewis goes in to finish Volkov.
Derrick Lewis would be propelled into a UFC Heavyweight title shot after this come-from-behind victory.
UFC 226: Daniel Cormier KOs Stipe Miocic to become Champ Champ
The moment Daniel Cormier knocked Stipe Miocic from his senses here: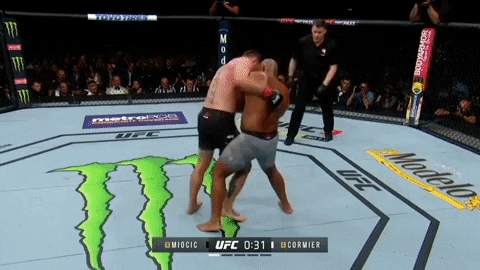 Fans around the world, not just the fans present at T-Mobile arena, reacted like this:
I could only really find a few moments where the crowd went bananas in recent memory during the main/co-main event of a Pay-Per-View card. The McGregor/Khabib incident doesn't really count because that moment was a result of panic/fear more than anything — and it wasn't caused by an in-cage moment.
Perhaps we've just grown accustomed to seeing fighters getting knocked out left and right and it takes something truly spectacular to pop the crowd, or perhaps our more well-rounded cards lead to less of a crowd pop in the would-be spectacular moments of the sport. Or perhaps the fans in attendance don't feel enough of a connection to the fighters in the cage to warrant a huge pop.