Mateusz Rebecki is the reigning, defending FEN lightweight champion. The Polish fighter, with a 13-1 record, looks like he'd be a good fit for Dana White's Contender Series, or the UFC proper, if he gets "the call."
From where is started – Jiu-Jitsu/ADCC
Rebecki, who has been into jiu-jitsu for years, started to make a name for himself around 2015. Among his accomplishments, winning the Polish ADCC gold medal. He is actually a two-time ADCC gold medalist in fact. In other BJJ competitions, he's taken home a slew of bronze medals as well. Outside of his gold medals, his biggest accomplishment in jiu-jitsu is his BJJ black belt.
Pro debut
Rebecki made his pro MMA debut nearly seven years ago on April of 2014. It's hard to have a complete performance in only 0:49 but Rebecki did just that. He came out and landed a perfect one-two going to the body with the left and to the head with the right hand. He hurt his opponent with that right hand and would change levels for an easy but very well-executed double leg takedown. In half-guard loosely as his opponent tried to explode, Rebecki locked in a nasty heel hook forcing his opponent to scream in pain for the verbal tap.
Suffering the first and only loss
Riding high to start off his career Rebecki was 3-0, with three finishes, and three heel hooks. It all came to a halt when he met Paweł Kiełek who at the time was undefeated at 4-0. Rebecki immediately opened up the fight shooting on a leg and got the eventual takedown. Being the risk-taker he was in his previous three fights he gave up his position to go for the heel hook. For the first time, it didn't happen but he still managed to get the top position and ended the round in his favor. Back to the leg in round two Rebecki got another quick takedown. He again went for a heel hook only for this time Kielek solidified the top position. Not defending himself, Rebecki hooked a leg and Kielek rained down nasty ground and pound knocking Rebecki out cold. The outcome really showed how 50/50 it is attacking leg locks in MMA.
Getting back on track
Fighters suffering from defeat never come back the same but some learn and improve. Despite Rebecki having success in jiu-jitsu, he's also had a lot of setbacks so failing and coming back stronger is nothing new to "Chinczyk." Since that loss, Rebecki has never been defeated since and went on to do great things.
Following that defeat, sitting with a 3-1 record, Rebecki looked much better. More well-rounded. Rebecki wasn't so solely focused on leg locks anymore, as he kept top position a lot and showed a lot of other wrinkles in his jiu-jitsu. In his fight with Adam Golonkiewicz he went to the distance for the first and the only time of his career.
Capturing gold in MMA
March 10, 2018 was a big day for Mateusz Rebecki as he won the Fight Exclusive Night lightweight title. A title he still holds to this day. His opponent, Marian Ziółkowski was a top prospect out of Poland at the time. Ziółkowski was 18-5-1 (1 NC) at the time and held the PLMMA title, another promotion out of Poland.
From his first professional fight, the very first time he threw his hands, it was a left to the body followed by a right to the head. That same one-two combination is the move that he finished Ziółkowski with to win his first title in MMA.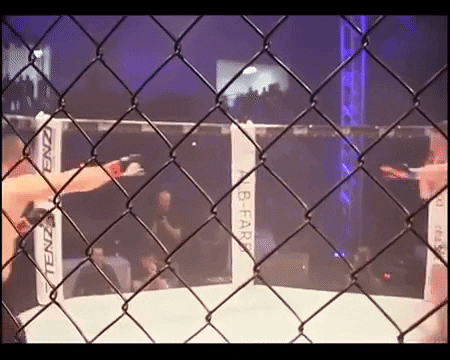 Fight Exclusive Night has had talents like Alessio Di Chirico, Marcin Bandel, Paweł Pawlak, Michał Oleksiejczuk, Piotr Hallmann, Gabriel Silva, Izabela Badurek, and Oli Thompson who are some former and current UFC fighters. Mateusz Rebecki put his name in the history books and hopes to join the list of FEN fighters to soon join the UFC.
First title defense
October of 2018 Rebecki defended his FEN title for the first time against Lukasz Kopera. Kopera was 8-2 at the time and had a five-fight win streak.
In the fight, it was all Rebecki and even though he got the job done on the mat he showed a lot on the feet. For some highlights, Rebecki hit home with a lot of output. He landed a lot of nice straight punches, he landed two flush flying knees, was winging big hooks, and found some success with the left body kick that hurt Kopera in the first round. After the first, Kopera was already broken and out of gas. Rebecki tired as well he never stopped coming forward and throwing. While dominating on the feet Rebecki had a few takedowns as well and had damaging ground and pound. Kopera was completely done in the third and Rebecki took him down and landed strikes until the ref stepped in.
Fight against Magomed Magomedov
The fight to reach 11-1 was when Mateusz Rebecki had to fight Russian prospect Magomed Magomedov, who was 12-2 at the time. Not a lot was known about the Russian but the word going around was that it was a stiff test for Rebecki. It wasn't. Magomedov had a significant height advantage but Rebecki gave him zero space. Rebecki constantly came forward kicking the lead leg and throwing big overhands. In the second round, Rebecki got the takedown and got into the crucifix position and a barrage of elbows sent the ref in.
At that point, the call was clearly being made to Dana White, but he put the Polish fighter on hold. For whatever reason, despite Rebecki being the reigning, defending FEN lightweight champion (who went on to have three title defenses), he was still flying under the radar. Which is puzzling, given Rebecki beat a veteran in Marian Ziółkowski while beating top prospects as well. Rebecki beat Łukasz Kopera, Magomed Magomedov, Daguir Imavov, and Kaik Brito, who is someone I'm high on. Rebecki has virtually dominated all of those opponents proving he's just levels above. There's really no reason Rebecki should be fighting outside a big promotion from the Magomedov fight onward.
He did
Rebecki did have to fight again outside the UFC and he did so twice expanding his record to 13-1. Following his win against Magomed Magomedov, he beat Brazilian veteran Fabiano Silva and Argentinan fighter Jose Barrios Vargas. He finished both oppnents by strikes and with Vargos he knocked his opponent out cold with a monster overhand left in under a minute.
Mateusz Rebecki is 13-1 while on a ten fight win streak. At the time he fought them, the combined record of his opponents was 135-46-3. Of thirteen victories he's finished all but one fight. Seven stoppages by KO/TKO and five by submission. Rebecki is what the UFC expected Oskar Piechota to be. He has about the same amount of potential as fellow countryman Mateusz Gamrot who is now in the UFC. The UFC did a great job signing Gamrot and they need to do the same with Rebecki. He's expressed interest in the UFC so now the feeling needs to be mutual. Call him Dana!
@Fight_Expert
"In his prime at 28-years-old with good strength & grappling. Forward moving southpaw with power, decent chin, reflexes, and now more experience in stand-up. 13-1 with twelve finishes against decent competition. Worthy of being on a UFC card now, good competitive pairings in the 25-50 range at lightweight."
@Grabaka_Hitman
"Rębecki's current run is very impressive. He's not only defeating but finishing some of the best Lightweight competition available in Europe, including the reigning KSW Lightweight champion. His signing should be a no-brainer, and he'd be a great addition to the murderer's row that is the UFC Lightweight division."
@CaptnKbec
"Rębecki is on a ten-fight winning streak and has proven himself capable of finishing his fights, whether on the ground or on his feet. At 28, Rebecki is entering his prime, and UFC's lightweight division will never have too much talent. While he has yet to face top-level fighters, his fights against tough competition like Łukasz Kopera and Magomed Magomedov should have secured him a ticket to the UFC already. The FEN lightweight champion is more than ready to take the next step, Dana White and his team should make the move before Bellator ends up signing Rębecki."
@MMARoss
"The UFC really needs to sign Mateusz Rębecki. He's run through everyone that FEN has put in front of him with ease. He also holds a win over the KSW Lightweight Champion, Marian Ziółkowski, who he finished in the 4th round to win the FEN lightweight title. He's defended his title five times now, with all stoppages. He needs that next step up in competition and I think at this stage the UFC is the only place that can provide that for him. Lightweight is a shark tank in the UFC. But he's a proven finisher and a ton of fun to watch. Think he'd cause a lot of guys problems and definitely has the potential to break into the top 15."
"I haven't been following Mateusz Rębecki for a long time, but while I have he's established himself as a fighter you don't forget in a hurry. He's been fighting top level opponents with 5 defenses of his FEN title. When you factor in his TKO win over current KSW Lightweight champ Marian Ziółkowski, I think Mateusz Rębecki is UFC ready."