RIZIN FF bantamweight Victor Henry gets the nod as the Prospect of the Month this time out.
Nickname: La Mangosta
Age: 32-years-old
Born: South Gate, California
Height: 5'7″
Reach: ?
Weight class: Bantamweight
Record: 19-4
Ranked #68 worldwide among featherweights according to Tapology
Ranked #22 worldwide among featherweights according to Fight Matrix
Who is Victor Henry?
We spoke to Victor to get to know him a little better. Born on May 4, 1987, Henry started his MMA career in 2010 around 20 years old. Henry started with baseball and that ended quickly, as it just wasn't the sport for him. He then played soccer for a few years. When he started high school, his parents put him into a private school that only offered basketball. Henry really wanted to play football for the public high school, but since that wasn't available he wound up looking at the local paper for sports programs. That's when Henry found his first Tae Kwon Do school.
Henry got into MMA when Andre Arlovski beat Tim Sylvia, back when 'The Pitbull' had "that crazy hair." He then learned about the Gracies, and has been a fan ever since. A prodigy of former UFC fighter Josh Barnett, Henry is one of your more experienced prospects, and comes with accolades including winning titles for promotions like Deep and SFL America. Outside of MMA, Henry was a Billy Robinson Absolute champ in Catch Wrestling and competed at the Eddie Bravo Invitational. Not too long ago, Henry was on a 2-3 run, but turned things around, and is now on a 7-fight win streak. Throughout his career, Henry has fought good competition and only twice has fought someone with a losing record. Henry is currently signed with RIZIN where he is 1-0 for the promotion.
Striking
Henry switches stances at times but usually fights at orthodox with his lead right hand. As striking isn't his strong suit it's something that's improving with time. He doesn't have  knockout power but his placement is solid. Henry can be counted on to throw volume and does a good job mixing in some body strikes. Once he gets loose, as the fight goes on, his volume can really play dividends.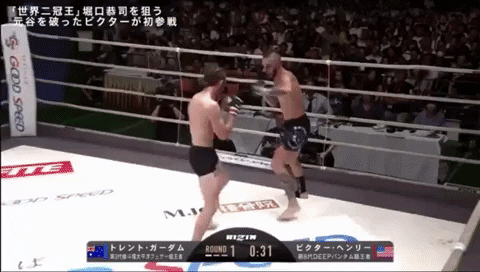 Kickboxing
Something that is overlooked when it comes to Henry would easily be his kickboxing. He's not really the flashy type, with the occasional spinning attack. He stays conventional and has an excellent left kick to the body. As shown in his fight with Denis Lavrentyev, Henry has some damaging leg kicks. Henry is fantastic at ending combinations with leg kicks and can do it over and over. Henry also throws the front kick up the middle to maintain the pace and does have a finish with a front kick to the body.
Clinch
In the clinch, Henry at times falls short but it's also somewhere he can be effective. Not always in control, Henry is good at gaining the over-under and the double under-hooks. At times long stretches of his fights take place in the clinch. Although it's an area he struggles with from time to time, he still needs to be there to get to where he's best at.
Movement
While Henry doesn't have the fanciest of footwork, it's solid enough. Henry mainly does a lot of circling trying not to sit in the pocket. He's not the lightest on his feet so he's not that hard to cut off if you have good footwork yourself. He's not flat-footed or repetitive however and that goes a long way for sure.
Wrestling
As said above, he needs to be in the clinch to get where he wants to be. Once in the clinch that's where Henry is a major threat, scoring the takedown. You'll hardly ever see him shoot from the outside. Henry isn't the guy to really ever drop level for takedowns. Utilizing trips in the clinch is what he's good at.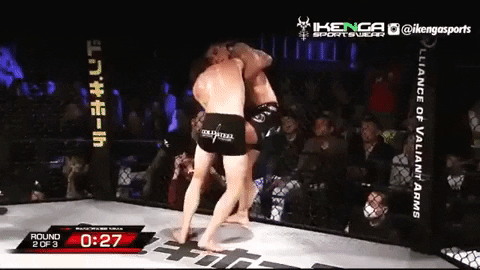 Ground game
On the mat is where Henry excels. On top or bottom, he's a major threat. Working off the bottom many times Henry is still the aggressor looking for submissions and openings. In his guard, he's shown his fluidity and flexibility throwing up gogoplatas to create scrambles. Henry has seven submission wins and it's not not just the submissions he has. "La Mangosta" thrives in scrambles and once on top he is just as dangerous with his ground and pound, mainly with his elbows. It's all about the work ethic as Henry is constantly working and looking for the finish.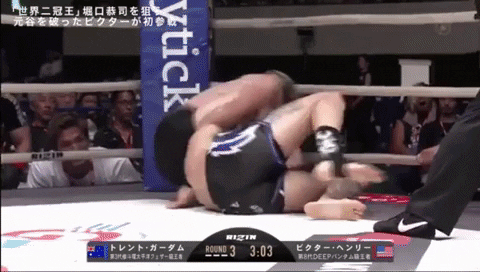 Cardio
Henry's cardio has been tested quite a bit in his career, going the distance eleven times. He's gone to at least the third round twice more. For his active work ethic, his cardio is pretty good. Henry often gets better as the fight goes on. You will notice he does slow down just a bit however, at which point his hands drop some. With that said, his pace is the mostly the same; he's always moving and looking for openings.
Defense
On the feet, overall Henry does have good defense. He's a good counter striker but at times his head sits on the center-line. He has good footwork but isn't the quickest fighter. He's definitely respected on the feet but on the feet against a good striker it will be smarter for him to wrestle. As said above, the clinch can be both good and bad for him. That's because many times he gets tripped up and ends up on his back. Henry is no doubt excellent on the mat but has lost in fights featuring mainly grappling.
Final Thoughts: Henry is currently signed to RIZIN and is 1-0 for the promotion. At 32-years old, the UFC may be out of reach at that point. With that said, he's happy with RIZIN which seems to be an excellent fit for him. Henry going against the likes of Manel Kape, Ulka Sasaki, Justin Scoggins, and Ben Nguyen all make for excellent fights. It's a stacked division and only getting better, so the fights are clearly there for Henry. Josh Barnett should be proud.