Perhaps the single most insane finish in MMA history topped the list of contenders for Knockout of the Year 2018.
If there was anything surprising about the Knockout of the Year 2018 candidates, it was the lack of heavyweight contenders. Aside from Derrick Lewis' thunderous comeback over Alexander Volkov, the heavyweights were nowhere to be found.
Instead, everything from featherweight on up was considered. But in the end, there was one knockout we just couldn't believe.
Knockout of the Year 2018
Heath Harshman: Yair Rodriguez's last-second no-look elbow knockout of Chan Sung Jung, in a fight that he was losing in the main event of UFC Denver, is one of the greatest KOs in UFC history. While Derrick Lewis and others have had some great moments this year, Yair's knockout of TKZ takes home the award by a mile.
Mike Straus: Yair Rodriguez vs. Chan Sung Jung – Fight Night Denver. Again I was lucky enough to be covering this event in person. I was sitting on press row when this KO happened, and we were all legitimately stunned. We did not know what just transpired. After seeing the replay, OMG, how can you not vote knock out of the year?
Jay Anderson: UFC Denver, Rodriguez vs. Korean Zombie. This might actually be the one category where the decision is unanimous. If it's not, well, you'd better make a pretty good argument, because Yair Rodriguez's hail mary up elbow knockout of The Korean Zombie in a fight he was losing was something no one had ever seen before.
Jesse Gillette: Yoel Romero KO's Luke Rockhold into 2019.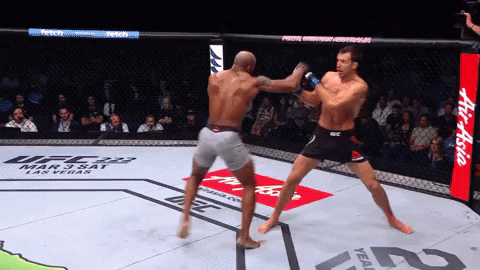 Josh Evanoff: UFC 224 featured one of the most amazing head kick knockouts we'll see in the octagon. Vitor Belfort was in the final fight of his historic career and Lyoto Machida came forward and hit him with an incredible front kick to end his historic career. It was an amazing knockout for Lyoto, and a somber, but necessary end to Vitor's career.
Eddie Law: Is this a real question? Did you not see Yair Rodriguez matrix The Korean Zombie at the last second? Yeah. Thought so.
Paarth Pande: Rodriguez KOs Zombie. Zombie was winning the match. Everyone thought the fight was going to go distance and Zombie would walk away with UD. However, in the very last seconds of the fight, Rodriguez landed that elbow from nowhere. This knockout was the perfect reminder of the unpredictable nature of the sport.
Farzin Vousoughian: Brian Ortega, UFC 222. He landed a perfect elbow to throw off Frankie Edgar and followed up with a classic uppercut. Although uppercuts are common, Ortega had some swagger behind that KO, doing it against one of the best.
Mike McClory: Yair Rodriguez without question gets the knockout of the year. Rodriguez saw himself down on the cards going into the final round of his fight with the "Korean Zombie" Chan Sung Jung and things looked bleak, that is until Rodriguez ducked on an incoming Jung and landed an upward elbow that floored the Korean Zombie at 4:59 in the 5th round to get the KO.
Dan Doherty: Buzzer beaters typically don't happen in MMA, especially at the end of a 25-minute fight. There was Demetrious Johnson's submission of Kyoji Horiguchi with just one second left in the fifth round, but that was a one-sided performance for the champion. Yair Rodriguez's ridiculous knockout of Chan Sung Jung is in a league of its own. In what was already an incredible fight when the 10-second warning was clapped in the fifth round, the UFC Denver main event became epic when Yair Rodriguez landed an upward elbow that knocked out the Korean Zombie as time expired in a fight he was losing. "Upward elbow" sells it short. Yair ducked as Jung charged forward and perfectly connected his elbow with Jung's chin while still crouched over. It was a blink-and-you-miss-it moment at the end of a great back-and-forth battle, and represented what is so great about this sport. You never truly know what is going to happen in MMA.
Gabriel Gonzalez: Yair Rodriguez vs Korean ZombieRun this one back a 100 times and it will never end the way it did in November. The elbow itself is going to be a highlight that lives just like Anthony Pettis ninja kick for one. But, consider that many doubted Rodriguez heart and toughness going into this one. On two weeks notice he survived a proven warrior in Zombie and pulled a victory from the jaws of defeat at the buzzer. Do these two have the name value of Max Holloway and Brian Ortega? No. But if they did, there may never be a crazier featherweight fight for another 25 years. It was that good.
End result: Yair Rodriguez's unbelievable upwards elbow finish of The Korean Zombie earns him the Knockout of the Year 2018 by a landslide.