UFC 226 went down Saturday night in Las Vegas — join us here as we run down all the action on the PPV card, featuring Daniel Cormier challenging Stipe Miocic in the main event!
UFC 226 airs on PPV at 10:00 p.m. EST so join us here for live highlights and ongoing thoughts and coverage. All main card highlights will be posted in real-time so be sure to refresh the page as the night progresses.
Tonight there's a UFC Heavyweight Championship fight, the highly anticipated Derrick 'The Black Beast' Lewis vs. Francis Ngannou bout, the rescheduled Michael Chiesa vs. Anthony Pettis fight that was postponed due to Conor McGregor's rampage in New York, a guaranteed slugfest in Paul Felder vs. Mike Perry, and Gokhan Saki vs. Khalil Rountree Jr which won't go the distance.
This is the most important fight in Daniel Cormier's career to date. For all the hype this Champion vs. Champion Super-Fight, the real 'money fight' for Daniel Cormier has always been a third scrap with Jon Jones. In order for that place to take place though, Daniel Cormier needs to rip the UFC Heavyweight Championship away from the most dominant champion the division has ever seen, Stipe Miocic.
Can Cormier prevail and take Miocic down, or will Stipe's striking be too much for the Olympic wrestler to handle?
Light Heavyweight bout: Gokhan Saki vs. Khalil Rountree Jr.
I predict we don't make it all three rounds in this one.
Round 1:
In the opening minutes of the fight Khalil Rountree lands a straight on Saki as Saki attempts a left kick and drops him! Rountree follows up with a series of shots on the ground and it's over!
ROUNTREE WITH THE KO. Oh my gosh. Saki got bombed on. #UFC226 pic.twitter.com/9MlkL3HRPr

— Ahmar Khan (@AhmarSKhan) July 8, 2018
WOW! What a statement by Khalil Rountree as he puts the entire light heavyweight division on notice.
Winner: Khalil Rountree via knockout at 1:36 of Round 1.
Catchweight bout (157.5 lbs): Michael Chiesa vs. Anthony Pettis
As mentioned above, this fight was supposed to take place back at UFC 223 in Brooklyn, but then Conor McGregor decided to throw a dolly through a bus window, leaving Michael Chiesa injured and unable to compete.
Chiesa missed weight on Friday by a pound and a half and subsequently announced he was done competing at 155 pounds.
"Today was the first time in almost 20 years I didn't hit my mark, it's embarrassing and it's a situation I'll shed more light on at a later date," Chiesa wrote on Instagram.
Anthony Pettis is in desperate need of a win here if he wants to ever fight for a championship again because he's too big for the featherweight division and he's already been ousted from lightweight once for losing three straight to Rafael dos Anjos, Eddie Alvarez, and Edson Barboza.
Since Chiesa missed the mark on the scale, Pettis will receive 30% of his total fight purse.
Round 1:
Chiesa shoot for and gets a takedown on Pettis in the opening seconds of the fight, but Pettis works his way back to his feet about 40 seconds later.
Chiesa lands a nice kick as they separate and he lands another takedown, but Pettis is attacking off of his back.
Michael's back up to his feet and he lets Pettis reset, but not before Pettis lands a flashy kick from the ground.
There's a brief scramble that Pettis wins as Chiesa winds up on his back – but it's negligible as the round comes to a close.
Chiesa charges Pettis after the horn sounds and gets in his face before heading back to his corner.
Gillette's Score: 10-9 Chiesa.
Round 2: Pettis lands a hard shot and jumps for a guillotine and ends up on the bottom.
Pettis throws up a triangle from the bottom and transitions into an armbar over the next few seconds and points Chiesa's thumb to the sky! Chiesa quickly taps!
It's over!
Anthony Showtime Pettis is back!!!!#UFC226 pic.twitter.com/yKogrDFjEV

— vicar adriano (@vadriano2000) July 8, 2018
"That looked like the WEC Pettis that I remember," Dominick Cruz says at the booth. He's right and it's great to see him back to form – That's the guy who won the UFC Lightweight Championship against Benson Henderson and that's the guy who landed the famous 'Showtime' kick.
In the post-fight interview with Joe Rogan, Anthony Pettis vows to get a knockout in his next fight, but notes that he just needed to get a win here after a lot of hard work.
Winner: Anthony Pettis via Triangle Armbar at :52 of Round 2.
Welterweight bout: Paul Felder vs. 'Platinum' Mike Perry
Felder is a lightweight that's making the jump to 170 tonight to fight the heavy handed Mike Perry. For those of you that don't know… Mike Perry's gimmick is that he's a crazy white guy that says anything he wants. We'll probably see a memorable post-fight interview if he wins and you'll see what I mean.
Round 1: Felder and Perry clash foreheads early and both start leaking from their wounds.
Perry starts landing hard elbows and some more shots against the cage and Felder is wobbled a bit.
Felder answers with some stiff shots of his own and is clearly the more crisp striker, but Perry continues to land the harder shots. Felder also continues to land kicks to the legs of Perry which is starting to give 'Platinum' some problems.
To close the round Felder lands a beautiful spinning back fist.
Gillette's score: Close round, but 10-9 Perry. Could have went either way.
Round 2: Mike Perry lands a powerful takedown as he throws Felder to the mat as the announcers gawk at his strength.
Perry lands a left hook that cuts Felder open and the referee calls a doctor in to check on Paul, but the action isn't halted for long.
……. #UFC226 pic.twitter.com/DN9vWpE6Da

— UFC (@ufc) July 8, 2018
Perry lands a german suplex on Felder and holds him down for a brief second before he scrambles to his feet. Paul Felder's bleeding like a stuffed pig at this point as round 2 comes to a close.
Gillette's score: 10-9 Perry
Felder's corner confirms between rounds that he broke his arm on the powerful takedown from Perry.
Round 3: The story of round 3 was how Paul Felder dealt with his broken arm… and he decided that it would be best to continue throwing it as if it had never broke in the first place.
Perry continues to get the better of these exchanges and Felder's clipped wing is doing him no favors.
Enjoy these final :15 from @FelderPaul and @PlatinumPerry 👏 👏 👏#UFC226 pic.twitter.com/ExX5k73Kjr

— UFC (@ufc) July 8, 2018
Perry thinks the fight is his as he celebrates before the decision is even announced.
Gillette's score: 10-9 Perry
Winner: 'Platinum' Mike Perry via Split Decision
Heavyweight bout: Francis Ngannou vs. Derrick Lewis
The idea here is that if Francis Ngannou connects with Derrick Lewis in the first round of the fight – it'll be over quickly, but if Derrick Lewis can somehow drag Ngannou to the ground, then he'll win the fight fairly easily.
Our referee is Herb Dean.
Round 1: Joe Rogan calls this a "zero margin for error type match-up," as Ngannou and Lewis circle the octagon for the first minute of the fight before Derrick Lewis cracks Francis first and then lands a switch kick about thirty seconds later.
Ngannou hasn't thrown a strike yet and we're at the 2:30 mark of round 1.
Francis now has Derrick's back against the cage, but he still hasn't thrown a strike.
Lewis lands another kick and shoots for a takedown, but it's easily stuffed by Ngannou. Derrick throws strikes when Francis gets close, but now it's nearly the end of the first round and we still haven't seen a single strike from Francis.
The crowd boos because Francis refuses to engage.
Gillette's scorecard: 10-9 Lewis.
Round 2: Lewis mentions that his back is giving him problems between rounds.
The crowd continues to boo as a minute passes without any real action. Apparently Ngannou has thrown 2 punches in the fight as the crowd begins using their phones as flashlights.
The fireflies are in Las Vegas.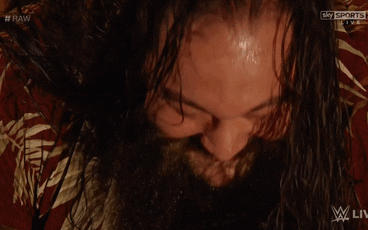 Eight and a half minutes into this fight – nothing of note. This is actually incredible for all of the wrong reasons. Herb Dean eventually steps in and warns both fighters that he will start taking points.
Nothing changes and the round ends.
Gillette's scorecard: 10-9 Lewis and he's not that much more active than Ngannou.
Round 3: Twelve minutes in and we're still waiting for things to get started. This is ridiculous.
The record for least strikes landed was 23, which happened in an old Jens Pulver fight, and we're apparently and we're dangerously close to that here tonight.
Francis Ngannou started throwing a punches with about 30 seconds left but it was too little too late and then Ngannou lands a punch on Lewis after the bell!
What a beautiful disaster that was – Joe Rogan is literally calling for a sports psychologist to evaluate Francis Ngannou.
Gillette's scorecard: Neither fighter deserves that round.
That was awful and it doesn't look like either man will get an interview with Joe Rogan.
No highlights to be found here. That's the worst fight in UFC history.
UFC Heavyweight Championship bout: Daniel Cormier vs. (c) Stipe Miocic
Brock Lesnar is shown in the crowd with Dana White and Lesnar tells Joe Rogan he wants to be on the Joe Rogan Experience Podcast.
That makes things interesting – perhaps Lesnar challenges the winner of this fight for the Heavyweight Championship if Jon Jones can't get his shit together in time for a third Cormier fight.
Brock Lesnar will fight the winner of tonight's main event in November at Madison Square Garden for the UFC heavyweight championship, multiple sources confirm.

— Jeremy Botter (@jeremybotter) July 8, 2018
Round 1:
Jon Anik informs us this is the first time the UFC Light Heavyweight Champion has moved up to challenge the Heavyweight Champion.
Stipe lands some shots from the outside and Cormier lands some uppercuts of his own.
The two scramble and DC is briefly down against the cage but now he's back up on his feet being held against the cage by Stipe.
Stipe lands a few strikes against the cage and Cormier continues to eat shots before he can find his range.
Now Cormier has Stipe against the cage, but Miocic just shrugs Cormier off.
Cormier begins landing some jabs of his own but Stipe lands combinations of his own.
Now Cormier is controlling the pace of the fight as his jabs make Stipe back off and Cormier continues to land until he accidentally pokes Stipe in the eye and action is halted.
Cormier gets back to work after the referee gives them the signal.
Daniel Cormier starts connecting and drops Stipe! He follows up with a series of punches on the ground and he is now the UFC Heavyweight Champion of the World!
DC IS WORLD CHAMP! DANIEL CORMIER IS WORLD CHAMP! He KO'd Stipe Miocic in Round 1. MY WORLD. The Champ Champ. #UFC207 pic.twitter.com/iYD3lw1qLg

— Ahmar Khan (@AhmarSKhan) July 8, 2018
Daniel Cormier takes the mic from Joe Rogan to call Brock Lesnar to the Octagon and we're treated to a series of pro wrestling promos:
DC calls out Brock Lesnar!

LESNAR IS IN THE CAGE!! #UFC226 pic.twitter.com/XTz7q16GJo

— UFC (@ufc) July 8, 2018
Brock Lesnar vs D.C.? 👀👀👀👀 #UFC226 pic.twitter.com/Cmg62RHdra

— L. A. Saifaleupolu (@416ixUchiha) July 8, 2018
Winner: Daniel Cormier via Knockout (punches) in 4:38 of Round 1.
Daniel Cormier is now one of only two men to become a double champion and he's officially the Baddest Man on the Planet. Jon Jones didn't steal the spotlight tonight, Brock Lesnar did.Prelim Results:
Emily Whitmore def. Jamie Moyle via unanimous decision
Dan Hooker def. Gilbert Burns via knockout (punches)
💥 BOOM 💥

🇳🇿 UFC Fighter Dan the Hangman Hooker sends Gilbert Burns back to Brazil 👊#SportsTalkNZ #UFC226 #DanHooker #UFCTalk #KiwisAbroad pic.twitter.com/Q3TEr0R65j

— SportsTalkNZ (@NZ_SportsTalk) July 8, 2018
Curtis Millender def. Max Griffin via unanimous decison
Drakkar Klose def. Lando Vannata via unanimous decision
Rafael Assuncao def. Rob Font via unanimous decision
Paulo Costa def. Uriah Hall via TKO (punches)
PAULO COSTA! My world! Vicious standup. What a fight. #UFC226 pic.twitter.com/9YJXLoAvX5

— Ahmar Khan (@AhmarSKhan) July 8, 2018