Ronda Rousey and crew have had a contentious relationship with MMA media for multiple years now, but the vitriol from Rousey is misguided.
Scrolling through Twitter today I stumbled across this tweet from former UFC fighter and current NXT Star Shayna Baszler:
This seems to be in response to Rousey opening up about her losses to the WWE after blocking out MMA-related media outlets. The problem with this statement is that in the case of Ronda Rousey, Baszler's frustration is misplaced.
For starters, Rousey promoted herself as a heel going into her Strikeforce bout with Miesha Tate. Heels are loved by the media and promotions because they're an easy way to draw eyes to the product or clicks in the case of the media. Many outlets won't go out of their way to chastise an athlete unless they're constantly getting into legal trouble outside of the sport and even then, it depends on what it is.
And then there's the fact that Rousey has had ESPN "journalist" Ramona Shelburne essentially as a personal PR rep for several years. Shelburne even covered Rousey's transition to WWE before anyone else. And there are numerous other pieces in the latter part of her career including puff pieces related to the Holm and Nunes fights. Going as far as to even alter the timeline of her relationship with Travis Browne even though everyone knows he was dating her while he was still "happily" married.
Now let's talk about the criticism of Ronda Rousey's striking which didn't come until after her back to back loses. And that is the media's fault. Because the issues with her striking should have been hammered home well before those two bouts. But no, the UFC hype machine got her all the way to the cover of Ring Magazine.
The issues with Rousey's striking were noticeable going all the way back to her first bout with Miesha Tate. She has several bad habits like turning away, walking straight back when being overwhelmed, and having no idea where to put her hands. But the media never really criticized her for these bad habits because clicks were needed and she was still winning.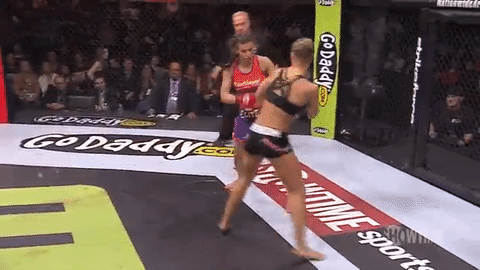 Now lastly, let's address the part about the fans. Both MMA and Wrestling have some pretty horrible fanbases. Okay, not completely horrible, but it's roughly 60/40 depending on the day of the week. The difference between the two is the level of dedication from the pro wrestling fan and that's what can make them creepy or even dangerous in some cases. Many of them come up with some of the worst excuses to defend the vile behavior of not just fans, but performers as well.
So no, Rousey and her crew will not escape any criticism from fans and media by transitioning to wrestling. If anything, it'll get worse, especially as the crazy stuff she has said becomes common knowledge by the wrestling fans.
Fans recently convinced Snickers to pressure WWE into dropping Moolah's name from an upcoming event because of how problematic she was. So there's no telling what might happen with Ronda if she doesn't reel it in.
And if they really do book her full-time post-Wrestlemania, expect her to get heckled. Especially in places like Philadelphia and Chicago where they s**t on people who can actually perform. One would like to think WWE knew what they signed up for when they got Rousey to try and leverage a good deal with Fox. If they didn't, oh well.